August 21, 2019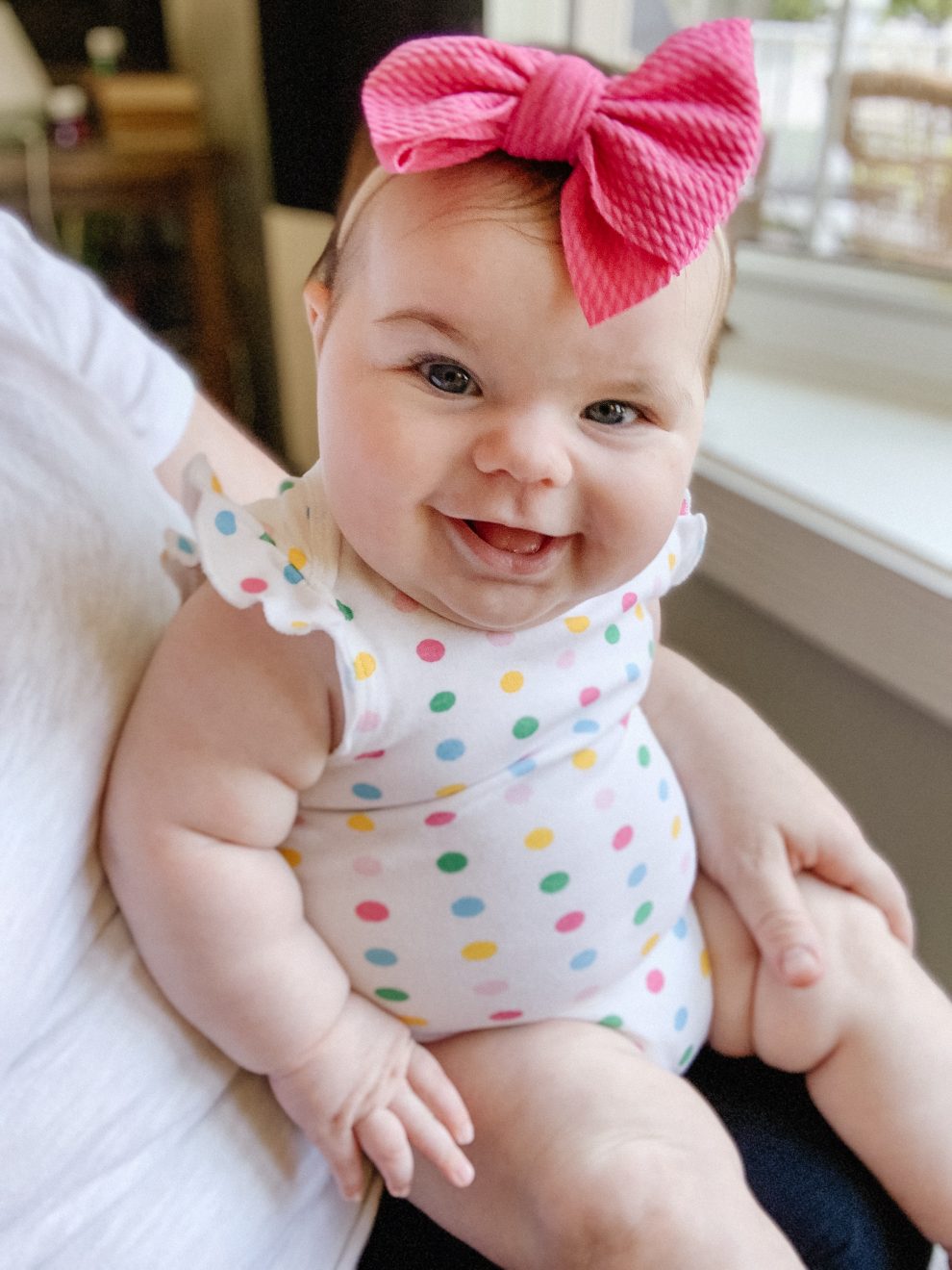 Hi guys!!! I have so many brides and friends having babies!! So Mabel and I thought it would be fun to put together our favorite things! These are our daily must have items that help our day look cute, stay safe, and have fun. Comment below if you have an item to share with us! Enjoy shopping!
FAVORITE BRANDS
Lou Lou and Company (Shop Here) Blankets, gowns, swaddles that feel like butter!
Baby Bling Bows (Shop Here) Bows that are super stretchy, soft, and grow with your little one.
Posh Peanut (Shop Here) Swaddle sets, gowns, one pieces, mommy gowns, & our favorite hairbows.
Uppababy (Shop Here) We have the Cruz! Seriously, the BEST stroller system!!
Hudson Baby Flannel Burp Cloths (On Amazon) Not all burp cloths are created equally. These are GREAT.
Rosie Pope– (On Amazon) Babies live in onesies. These are my favorite because they great quality and have a ruffled sleeve!
APPS
Adobe Lightroom (Click Here) I use this to edit all of my photos on my iPhone.
1 Second Everyday (Click Here) Been using this app for 2 years! It's incredible! Video clips- DO IT!
Family Album (Click Here) We upload our favorite images of the kids and share them with our family. Everyone can view, download, and create photo books through the app! This keeps us from texting photos to everyone all of the time.
Chatbooks (Click Here) We do monthly Chatbooks from iPhone photos! We also use this for stories such as Mabel's birth and photo shoots. We want to have a nice collection for her in print.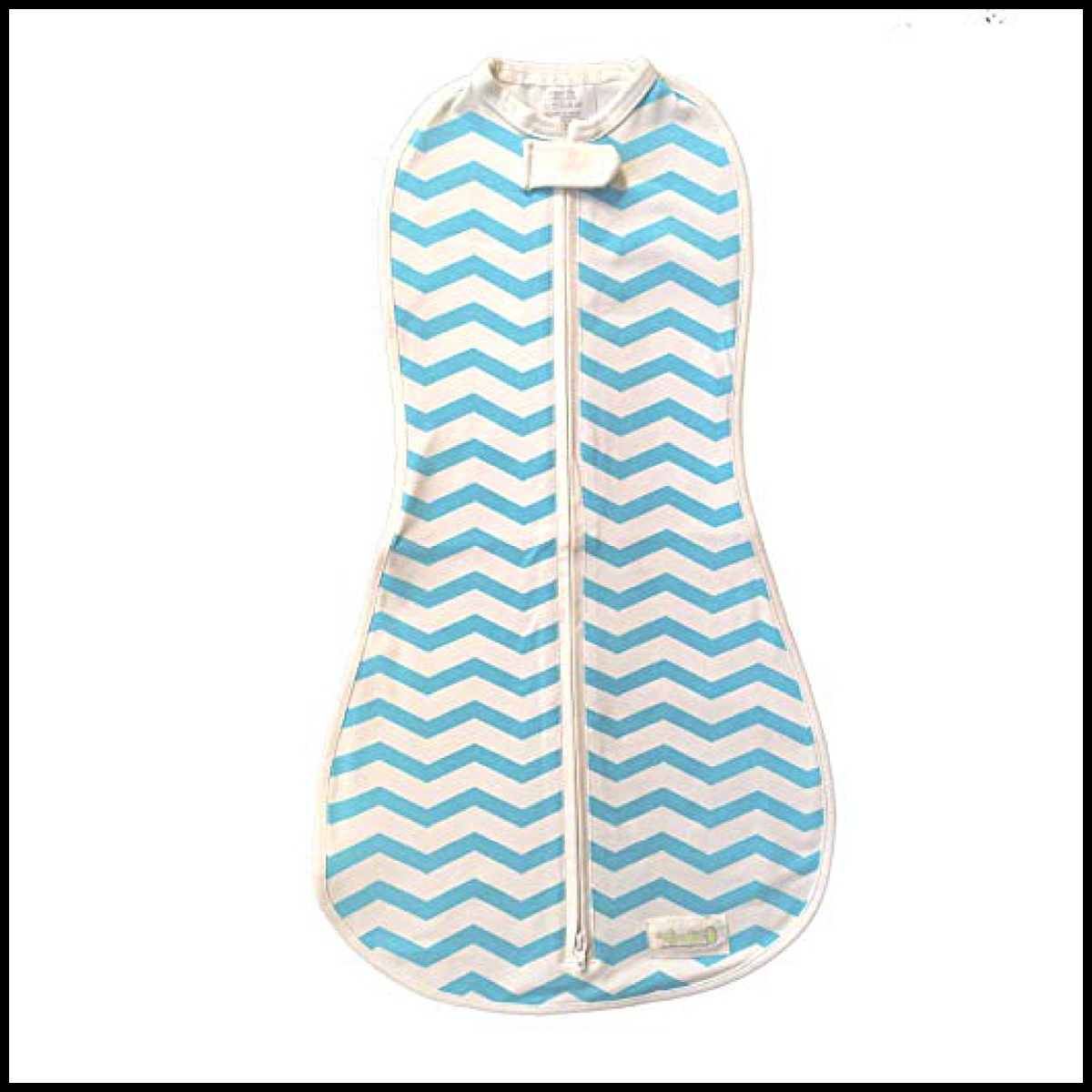 WOOMBIE– (On Amazon)
Holy amazing! Babies NEED to be swaddled. You're doing your baby and yourself a disservice if you don't! We bout the two first sizes when she was born. It has a two way zipper which is great for night time diaper changes. This is our favorite swaddle for the first 3-4 months! You can thank me later 🙂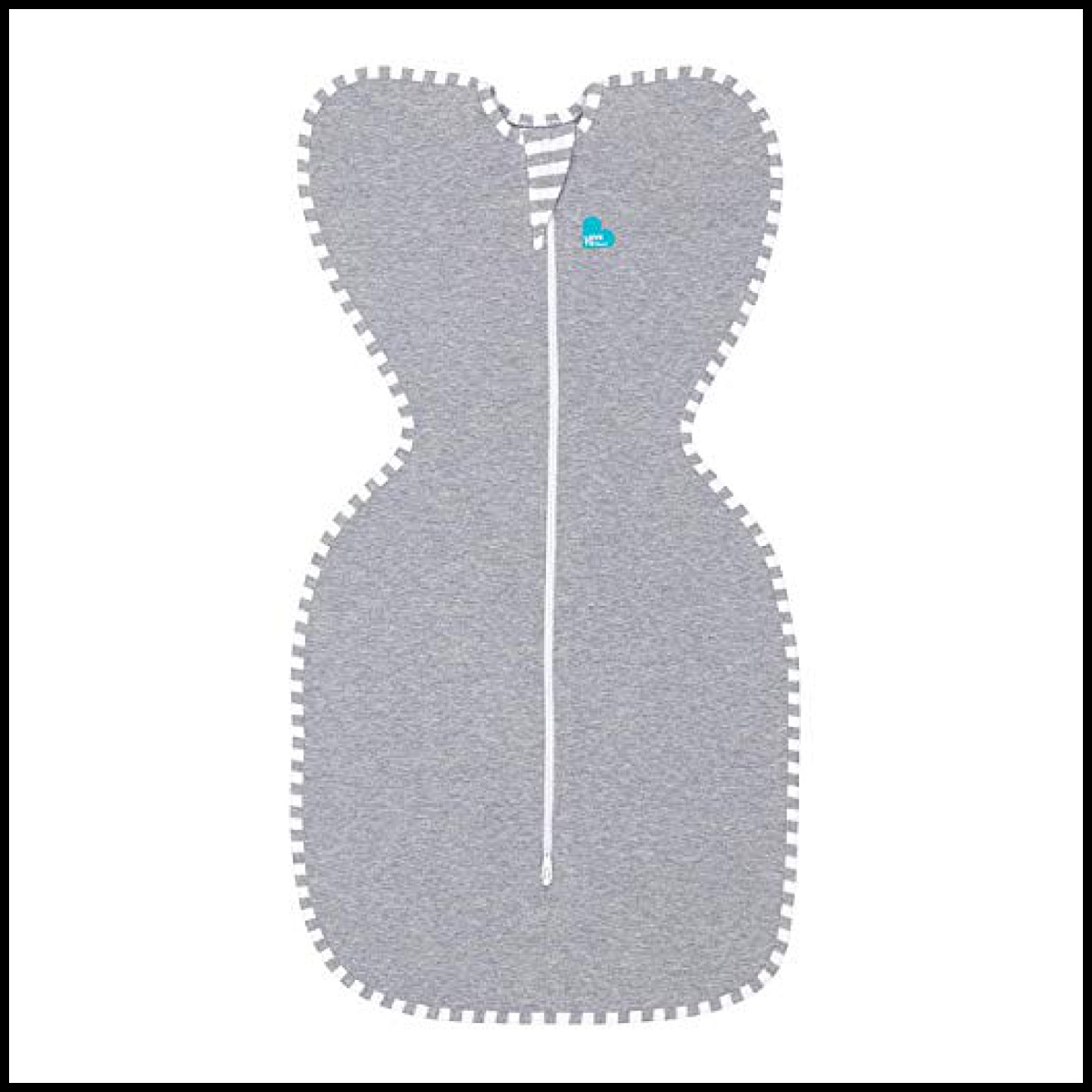 LOVE TO DREAM SWADDLE– (On Amazon)
Mabel loves this swaddle, too! This allows her to have her hands up by here face. We use it less often because her hands tend to wake her up! But, we did buy the medium size and plan to start using it again around 5 months.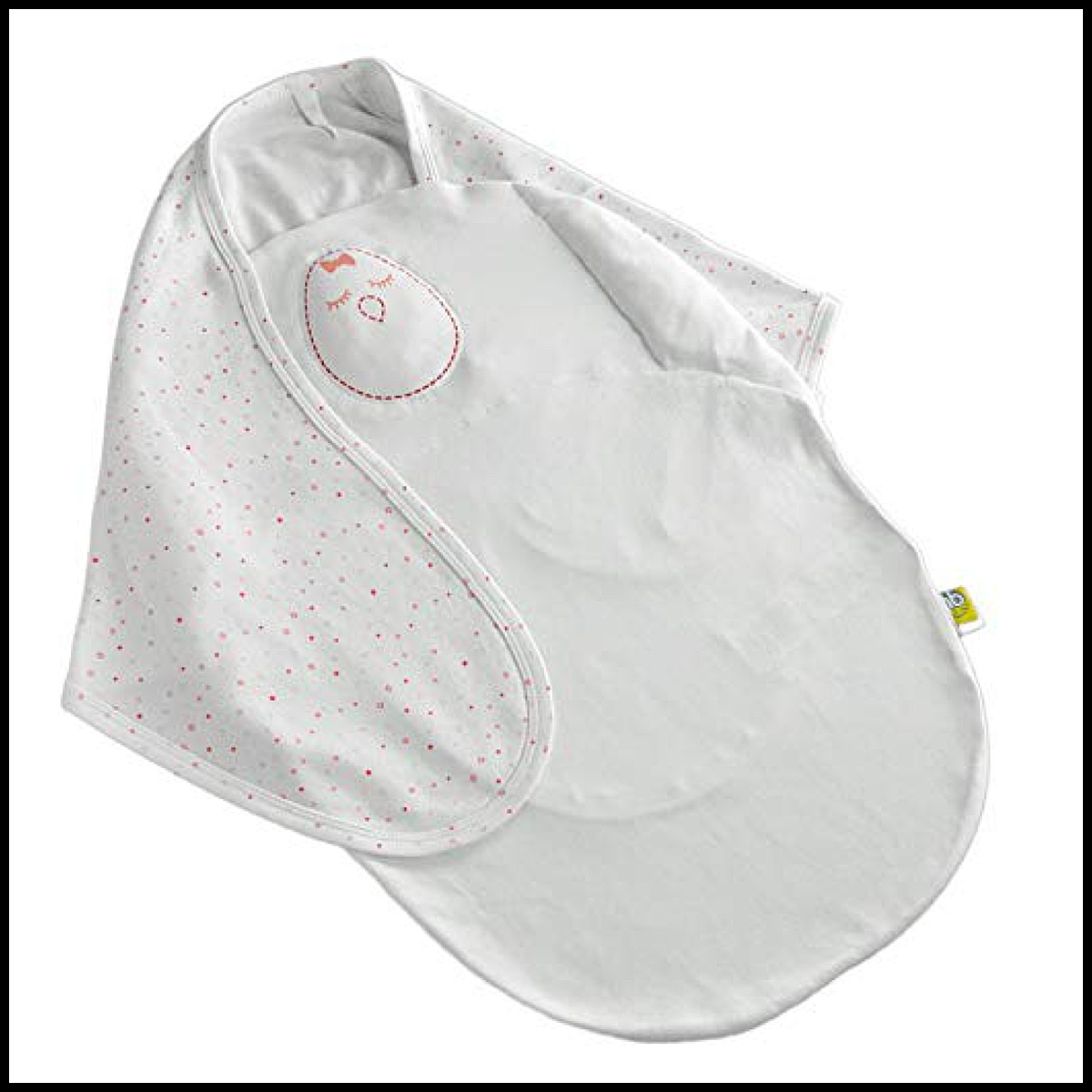 NESTED BEAN ZEN SWADDLE– (On Amazon)
We currently use this swaddle with the weighted egg that you place on their chest and over their arms. It gives her that little extra weight on the chest to soothe her.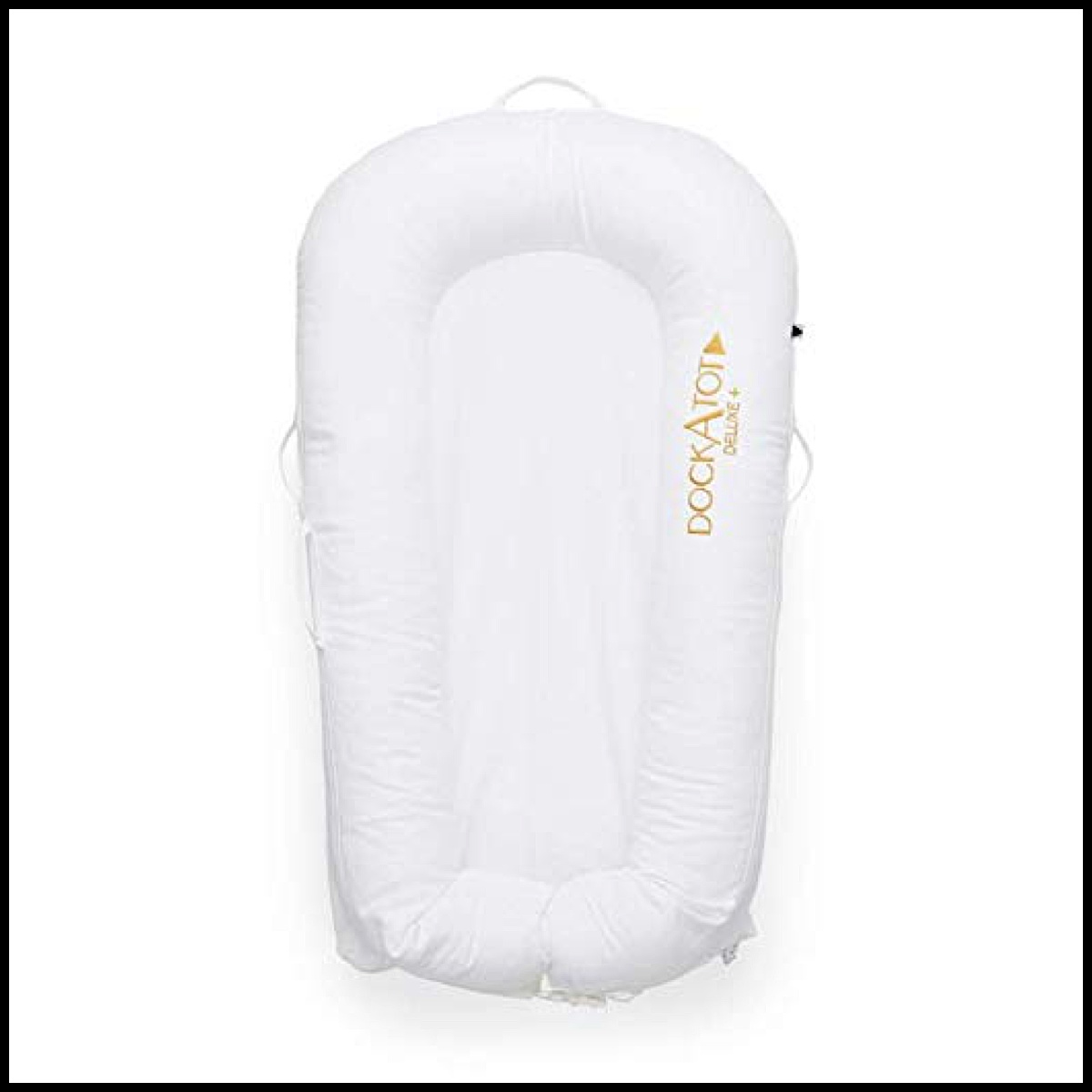 DOCK-A-TOT– (On Amazon)
I'm guessing you have looked at these and have wondered if they are worth the price. Yes and No. We bought a gently used one on Facebook Marketplace for $80 and have been happy with it. It wasn't the pattern I wanted, but I didn't buy it for Instagram photos! Mabel sleeps in this every night in her bassinet or crib. It snuggles up close to her and also provides a slightly high angle so that their head is higher than their feet and not laying completely flat. We also use this to travel! Some parents use this as a co-sleeper in the bed with them. It's one of our best purchases! It is a pricey purchase, but it is an investment!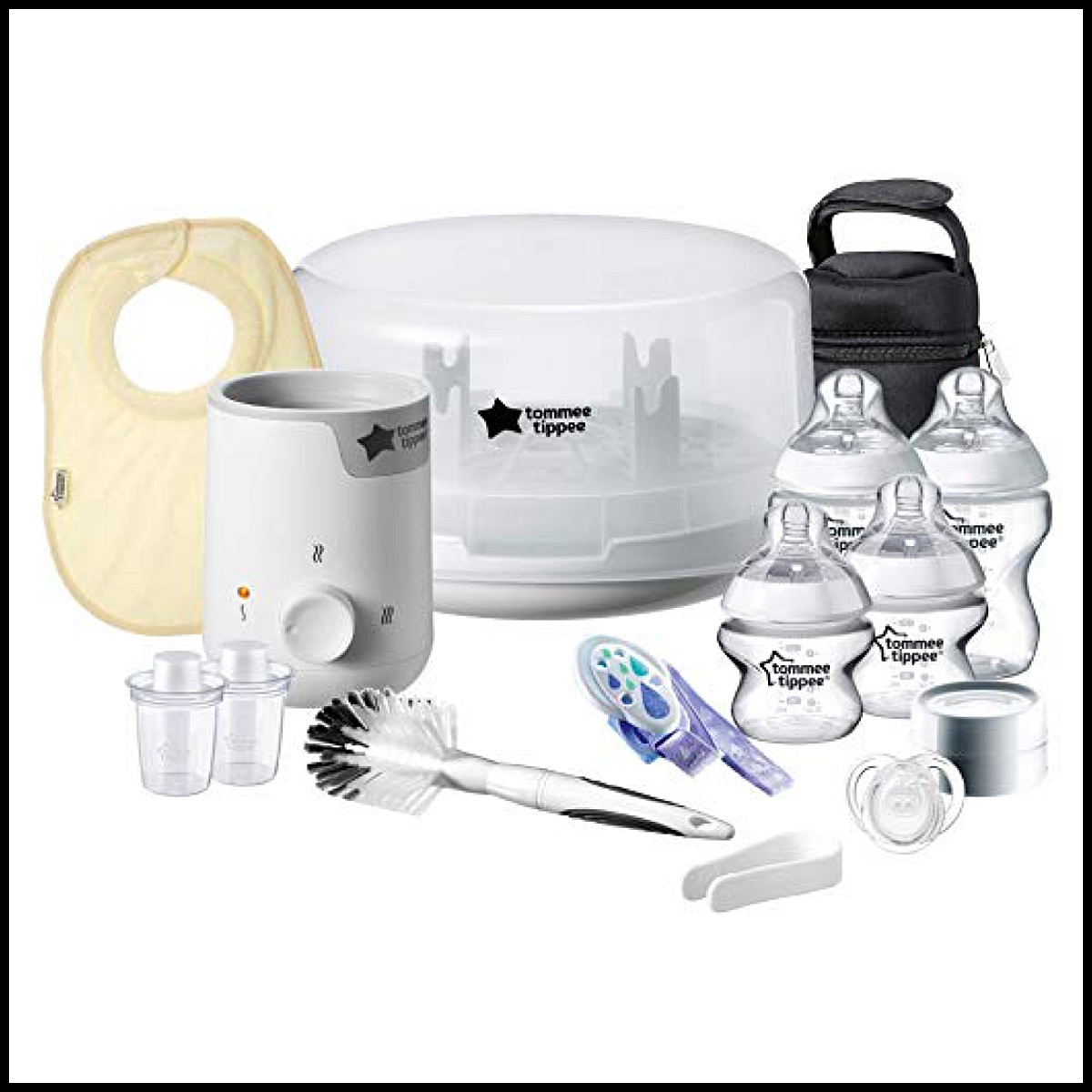 TOMMIE TIPEE– (On Amazon)
We lucked out because this is the one and only bottle we bought and she loved it. It was highly suggested by other moms and worked out great. They are super easy to clean, too. Wee use this entire kit and really love the bottle warmer. It warms super quick and is reliable.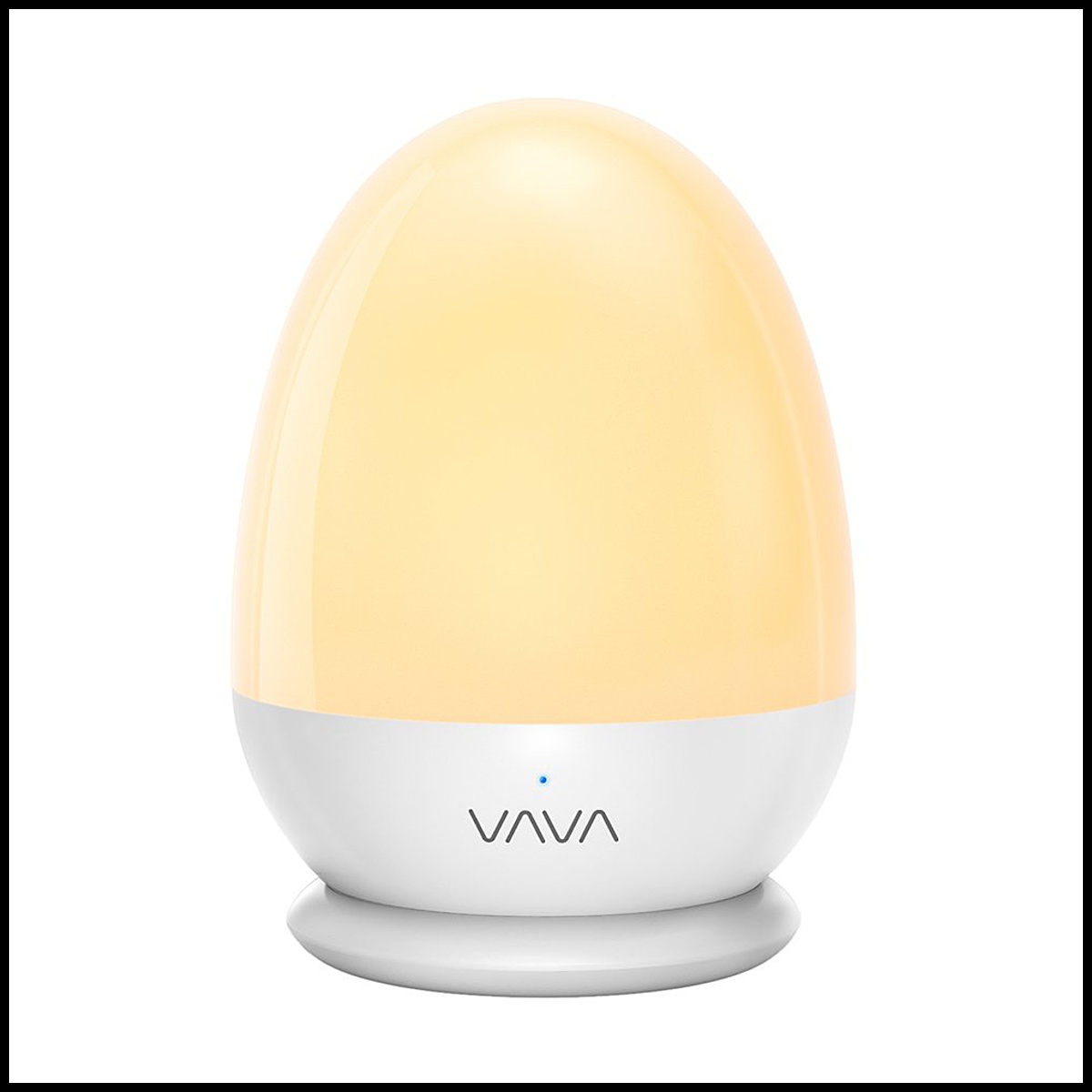 VAVA NIGHTLIGHT– (On Amazon)
This egg light is the bomb.com. It charges on a docking station and usually lasts two nights on one charge. It is has touch sensors on the top and sides that allows you too very quickly change the color temperature or the brightness. It has a sleek design so it fits into the decor easily. We LIVE for this night light.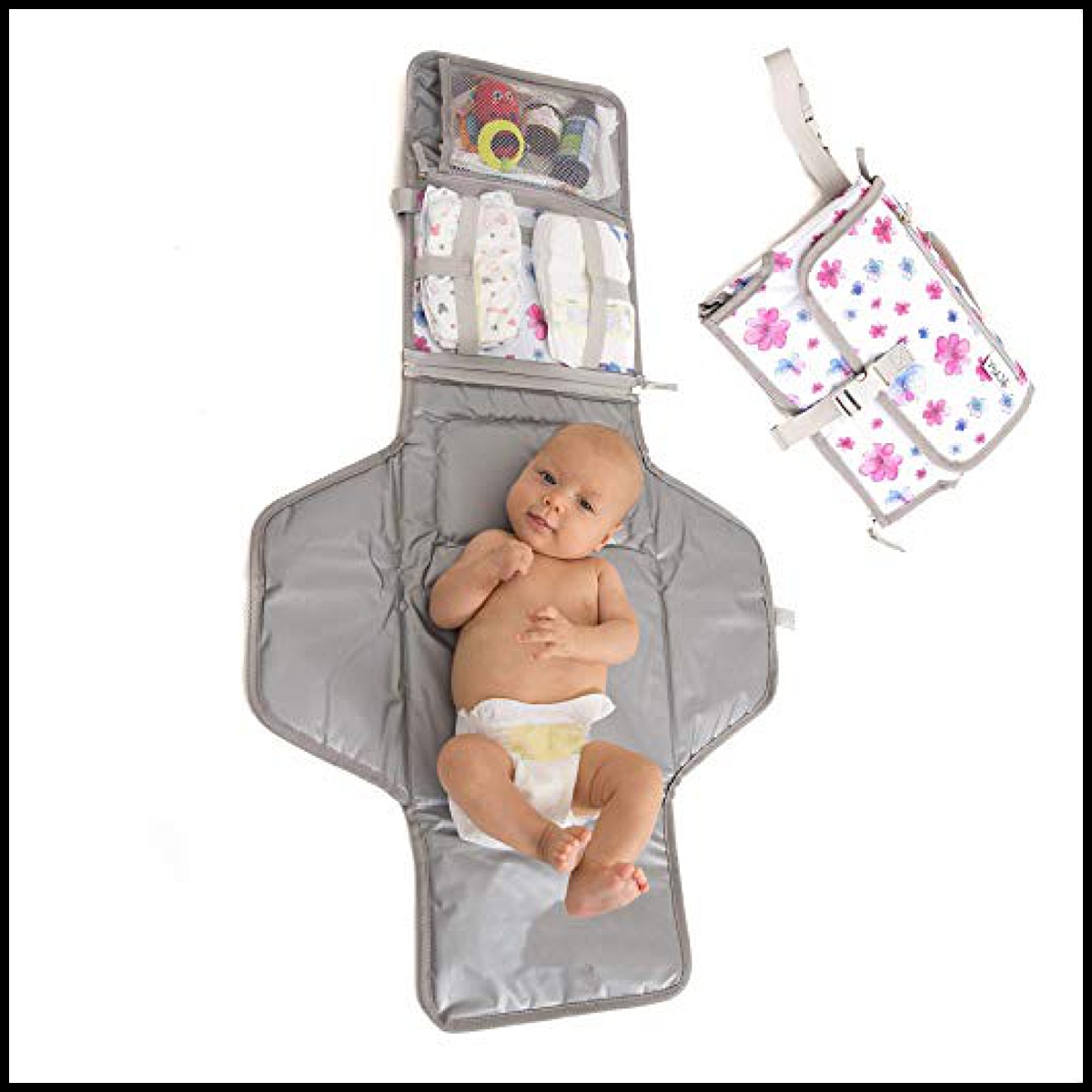 PORTABLE CHANGING PAD– (On Amazon)
Hand this bad boy on your stroller when you make quick trips! No need to carry an entire diaper bag all the time. It is also a great item to keep in your car for diaper emergencies!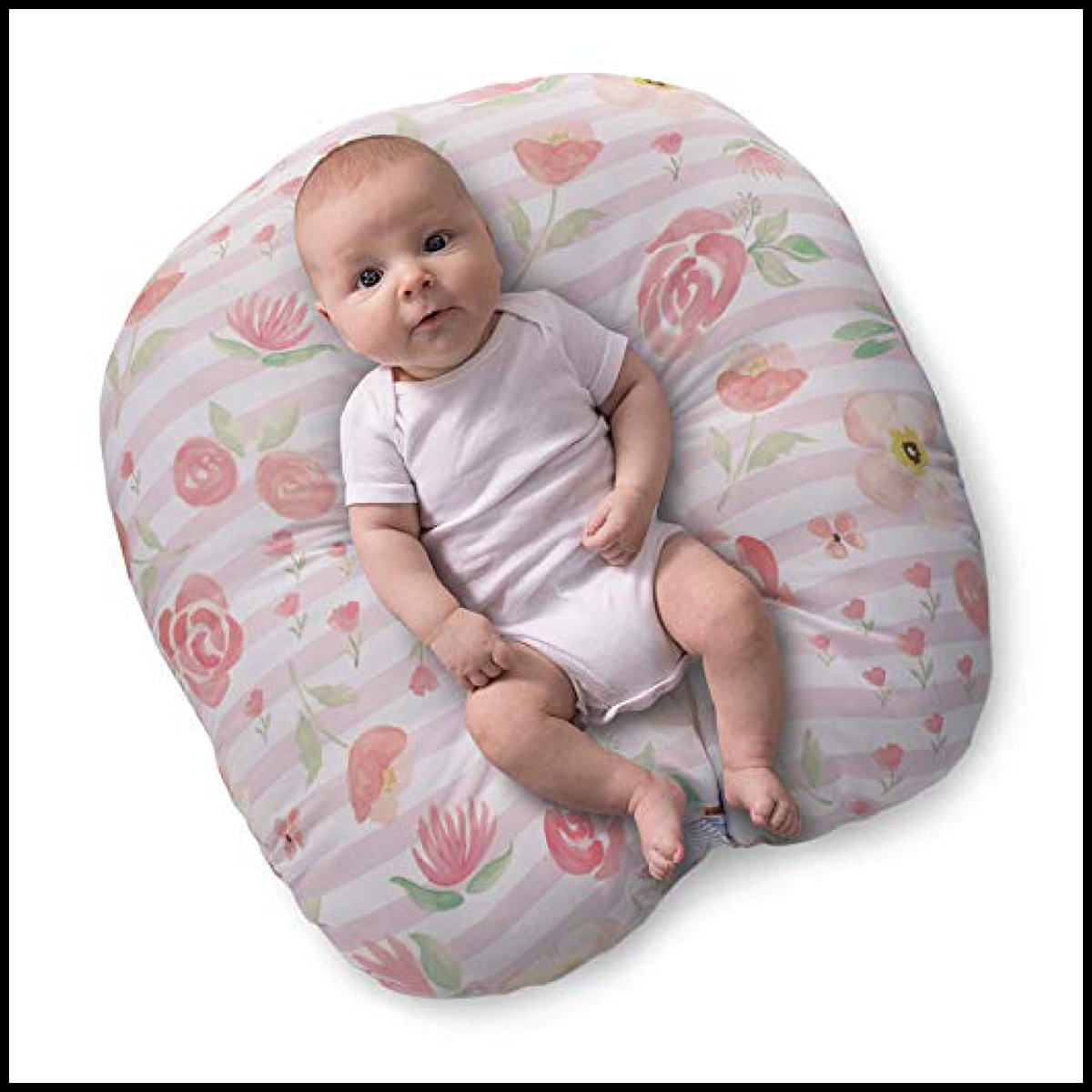 BOPPY LOUNGER– (On Amazon)
Mabel lives in this thing. On the couch, on the floor, under her play toys! I would like to have an adult size one for myself!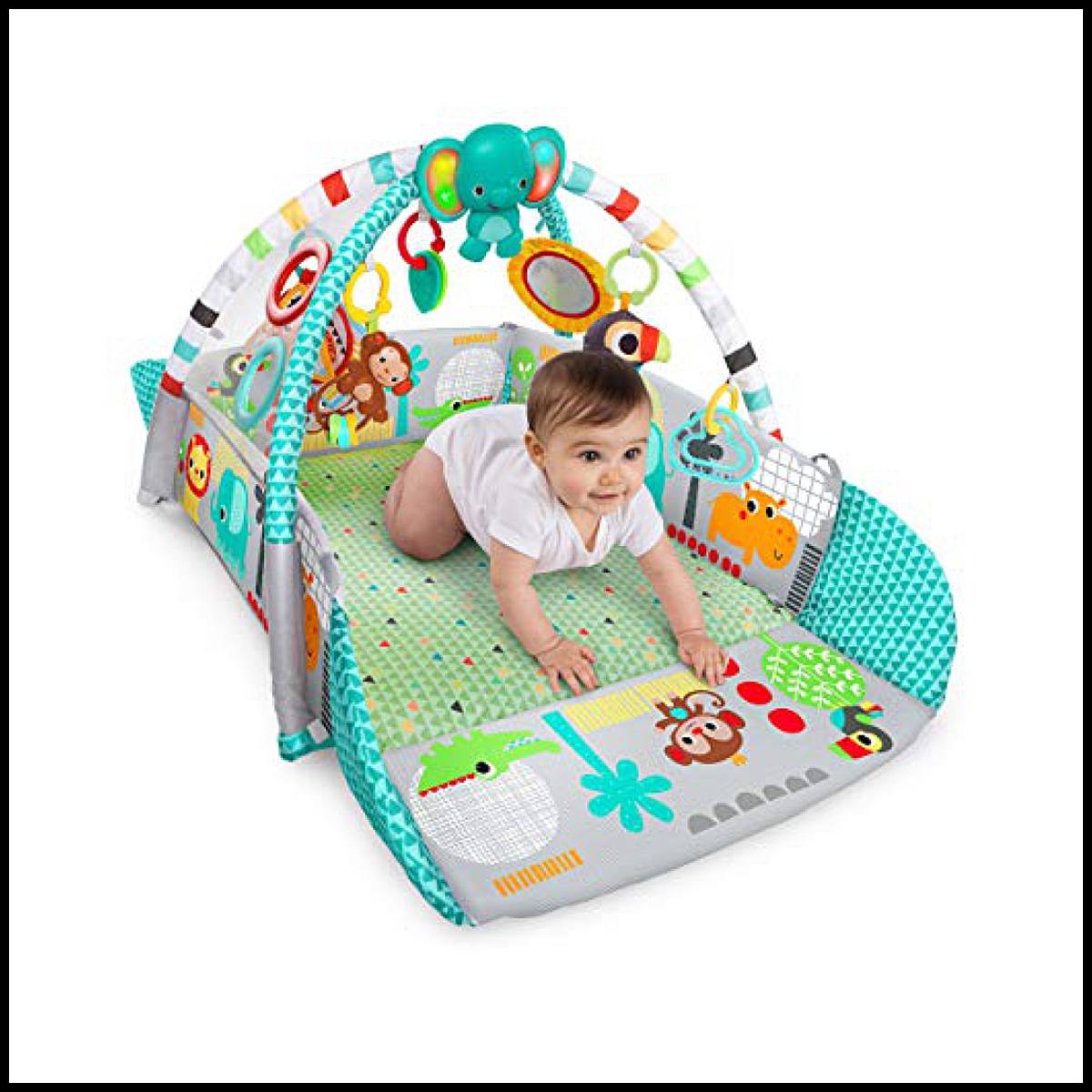 BRIGHT STARTS ACTIVITY GYM– (On Amazon)
Let me count thee ways I love this play gym! Mabel loves the bold colors and toys that it comes with. The elephant plays an African inspired melody which is refreshing to all the kiddy songs we usually hear. The jungle theme is definitely cute. She loves that it has walls and she uses them to turn herself around and around. It also comes with a pillow for tummy time- which has been a lifesaver! And we are excited for when she gets a little older to add the balls to make a ball pit. This gym is permanently in our rotation for fun activities.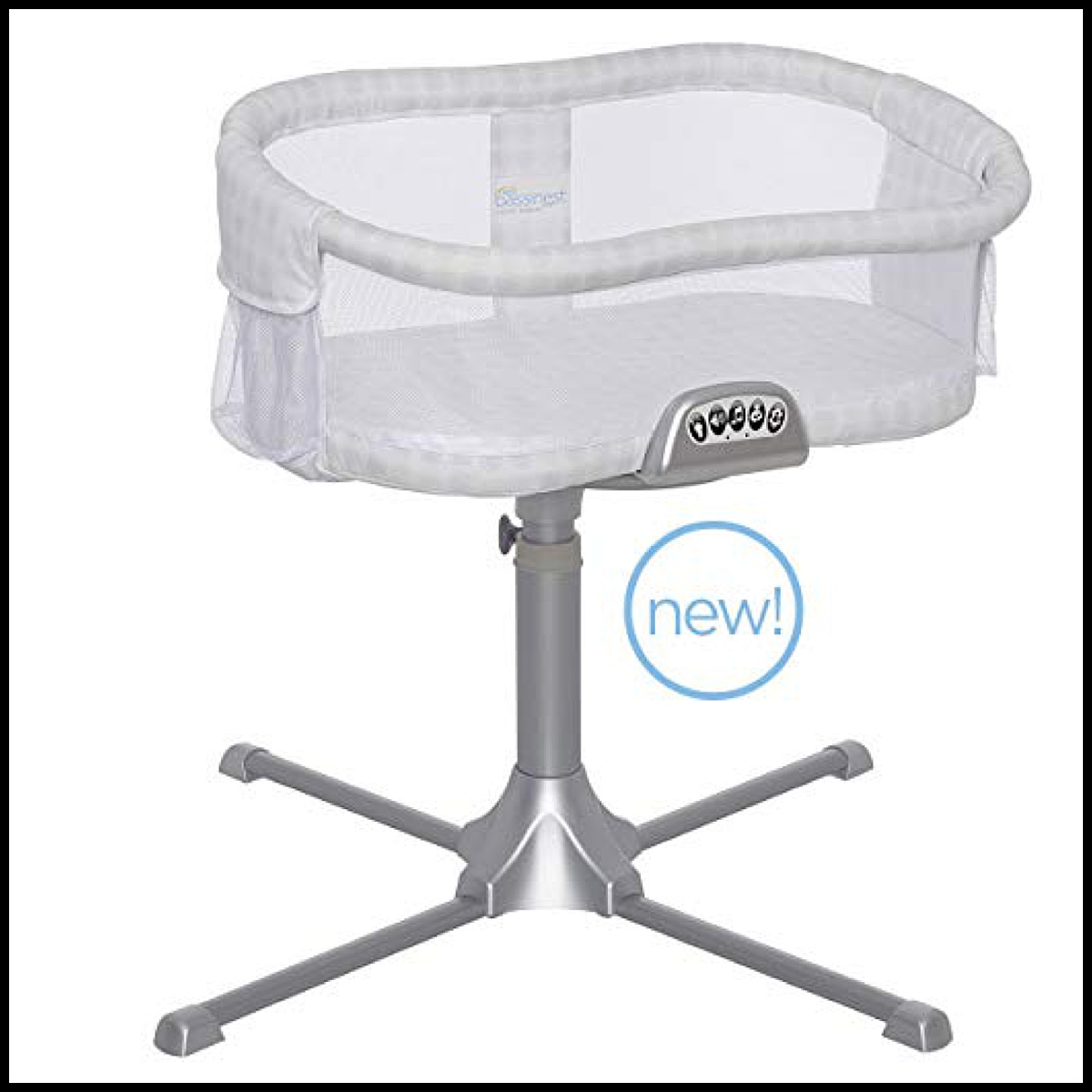 HALO BASSINET– (On Amazon)
Another big purchase! Once again, I knew we would only be using this for about 3-4 months, so I bought gently used on Facebook Marketplace. I particularly like this one because it has adjustable heights, a timer for breastfeeding at night, swivels two ways, a night light, flexible side to get baby out, and vibration. We put the dock-a-tot inside this bassinet and kept her beside our bed.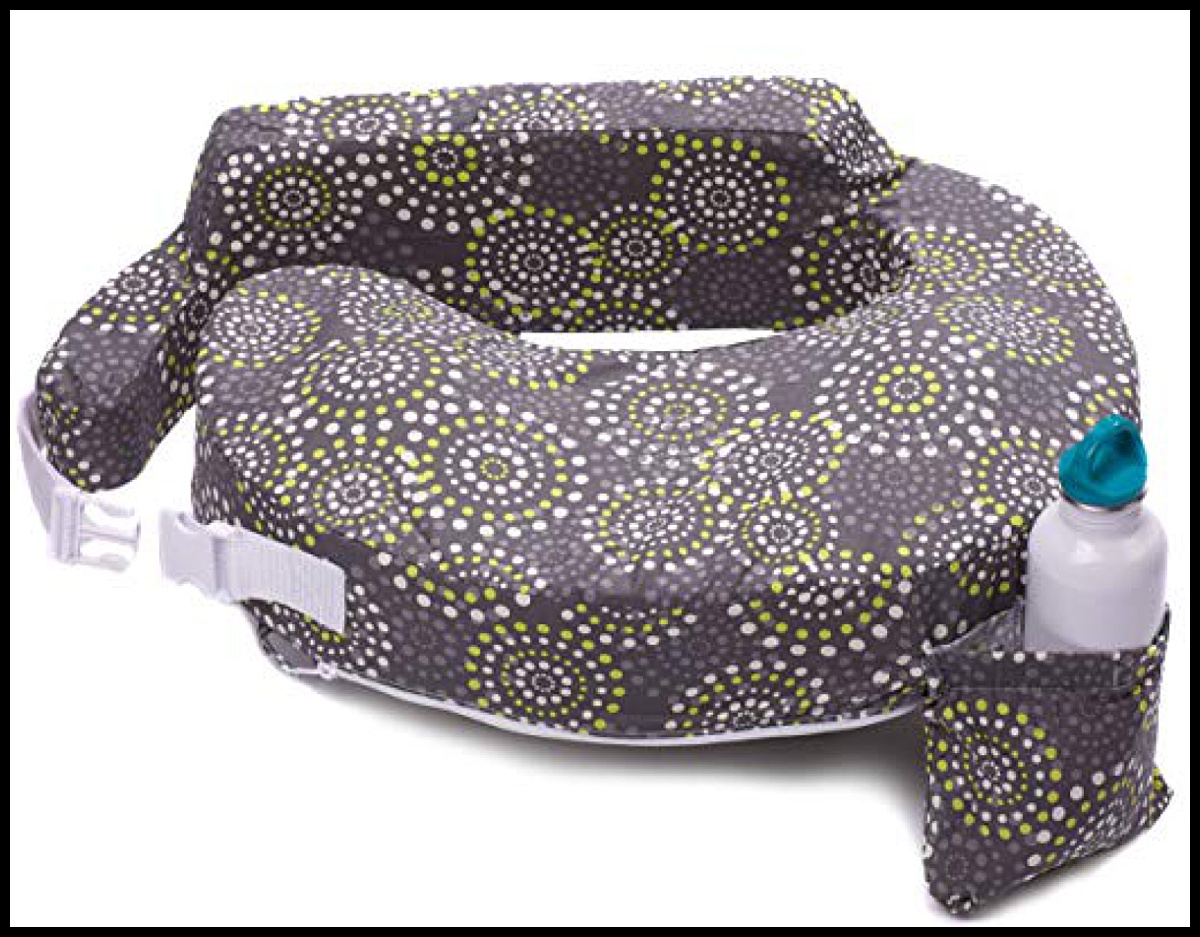 BREST FRIEND PILLOW (On Amazon)
Guess what! Boppy's are NOT for breastfeeding! This was a huge shock to me, but made total sense!I could never get that thing to fit correctly. This is THE BEST and I use it every single day- all day. I gives mom great back support and a comfortable position for baby to properly feed. When you breast feed all day, posture can be your best friend. I love that this has a belt that locks and secures that baby closer to me. This is a game changer!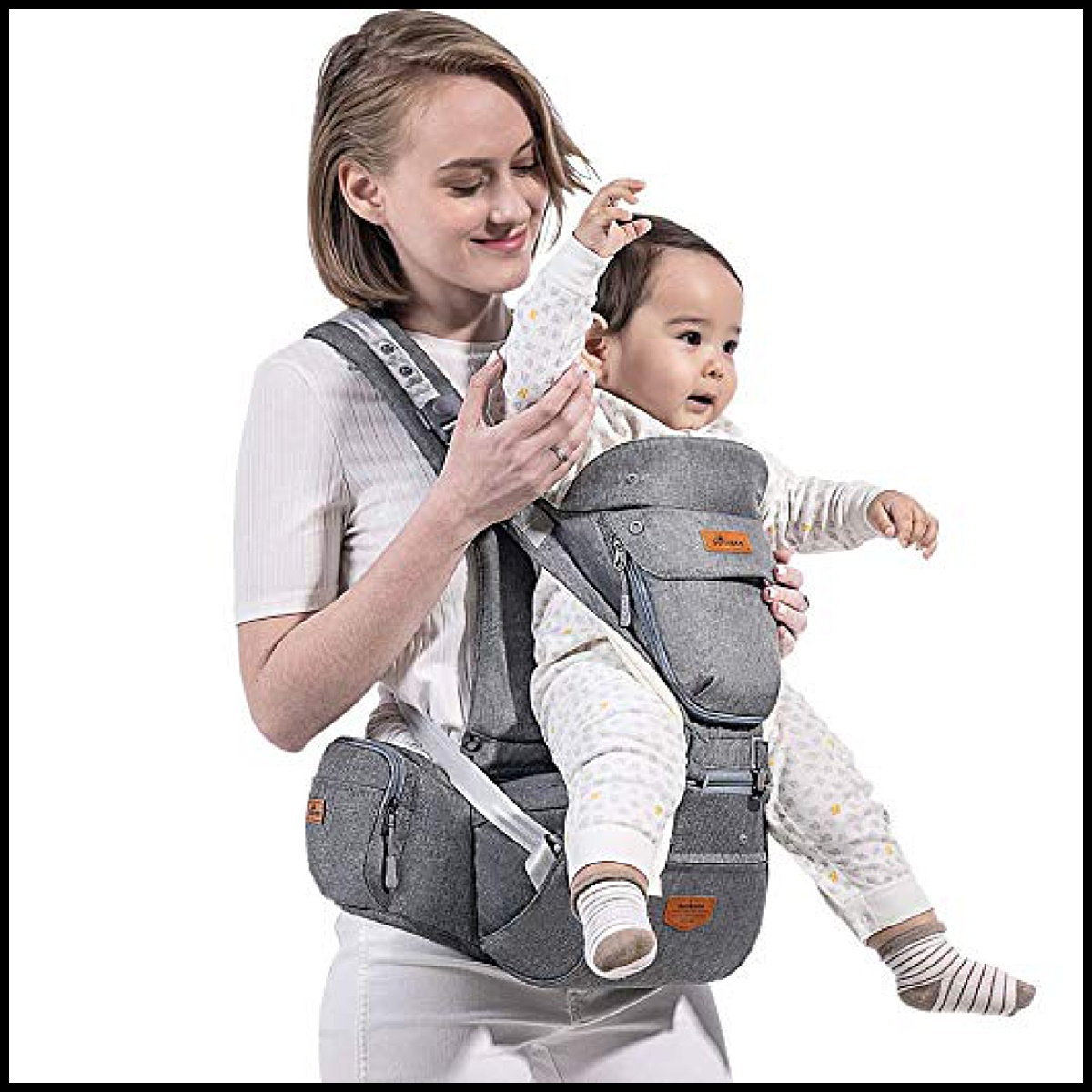 BABY CARRIER WITH SEAT (On Amazon)
Yes, it has a seat! And it's cheap! Listen, we have the $200 carrier and this one just seemed to be better for Mabel. It's easier on her hips and she enjoys facing forward around the house when I clean. Seriously worth the purchase and the seat is where it's at!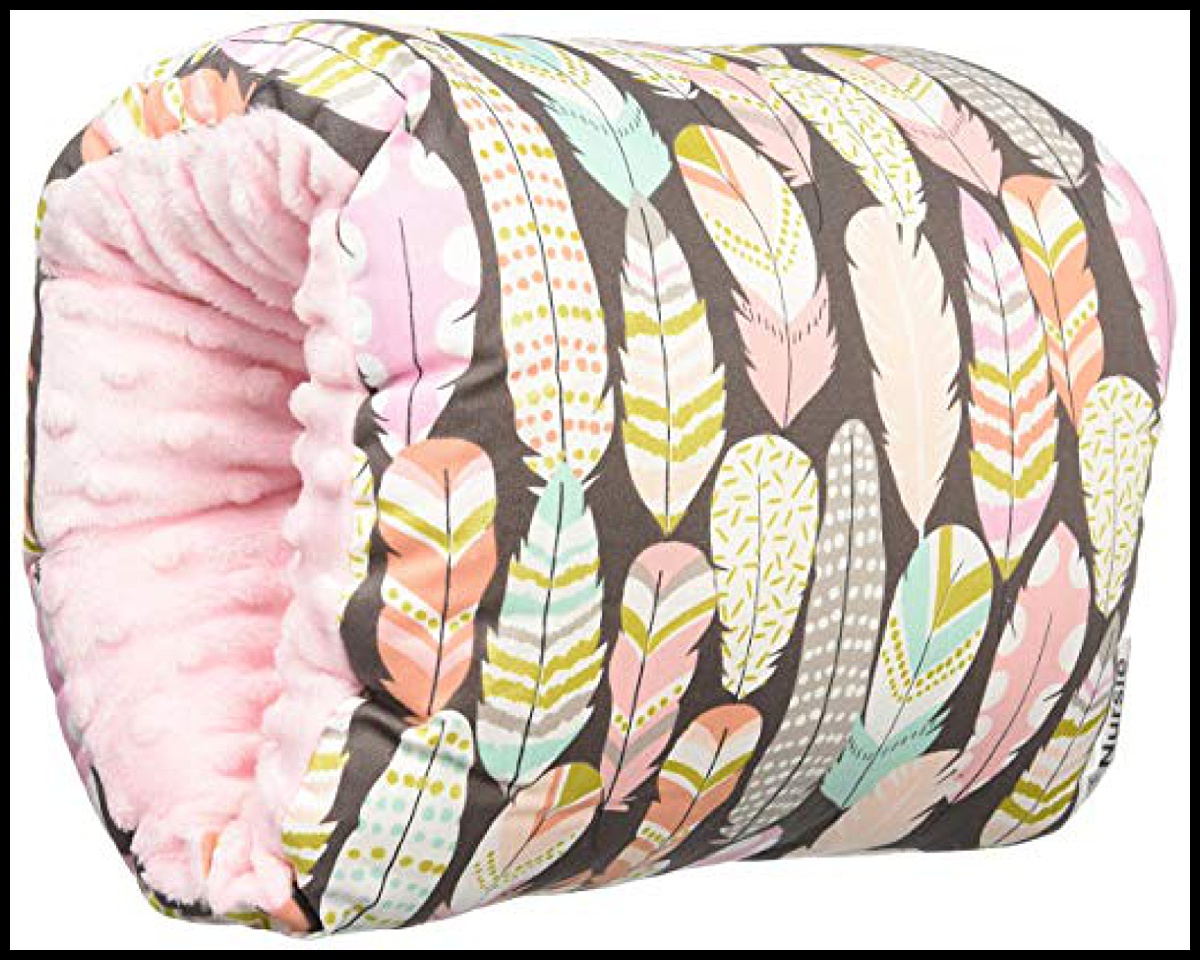 NURSIE PILLOW– (On Amazon)
This was a gift from my best friend and it has been a total life savor. We use this nursing pillow for extra support when bottle feeding and for anyone who wants to feed the baby. We also travel to make feeding easier in a car, airplanes, or a grandparents house.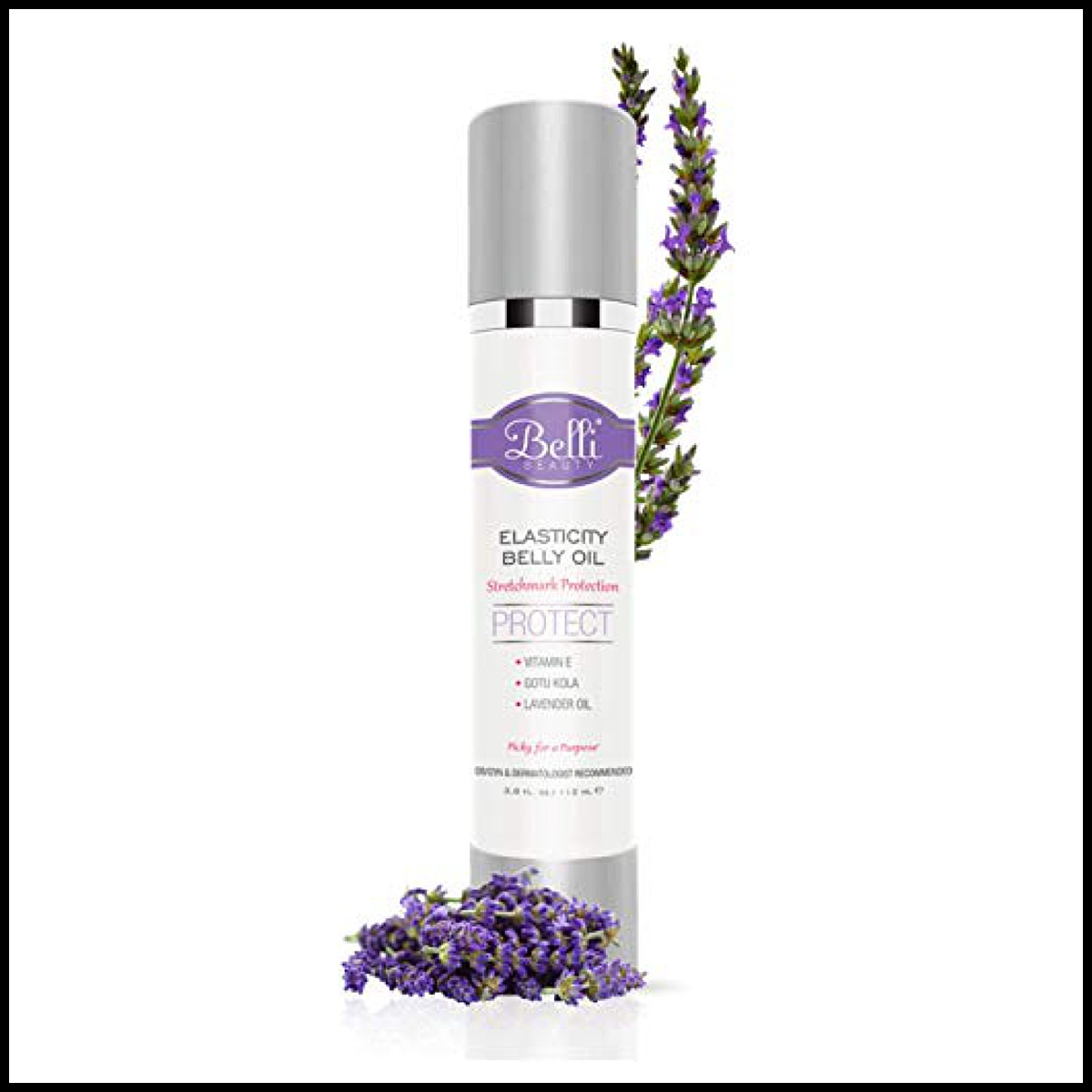 BELLI BELLY OIL– (On Amazon)
This is magic! It works well, smells of lavender & contains Gotu Kola. This is the ingredient that is supposed to really help protect your skin!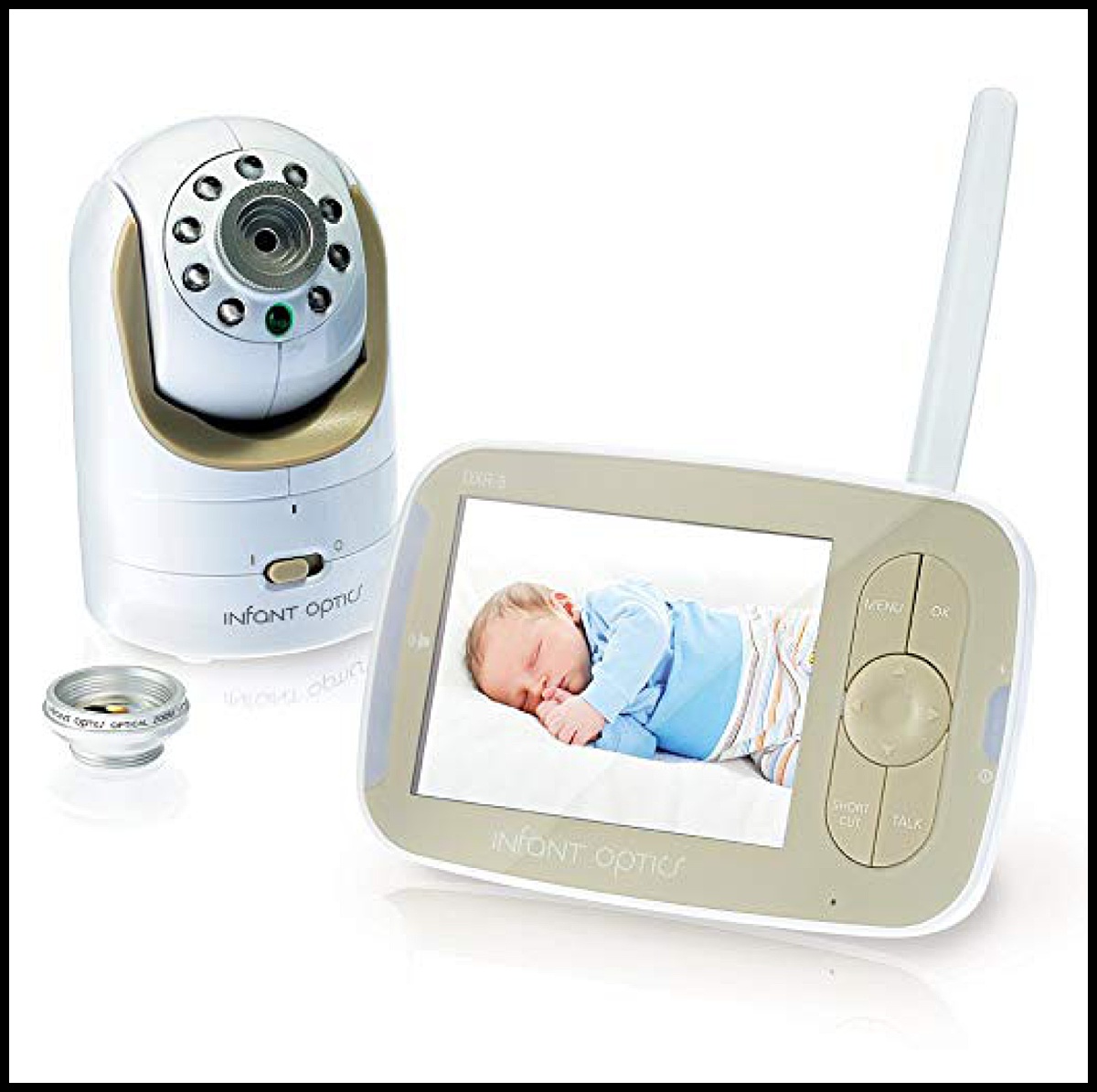 INFANT OPTICS DX-R MONITOR– (On Amazon)
We literally read reviews for weeks. There really isn't a perfect baby monitor. We thought about using a camera that connected with our iPhones, but ultimately decided to go the old school route because we didn't want the app running on our phones or depending on our phone to see and hear her. I'm super happy with our choice. Sometimes it goes out of rage, but overall- we love that it zooms, has 2 way talk, great night vision, and room temperature.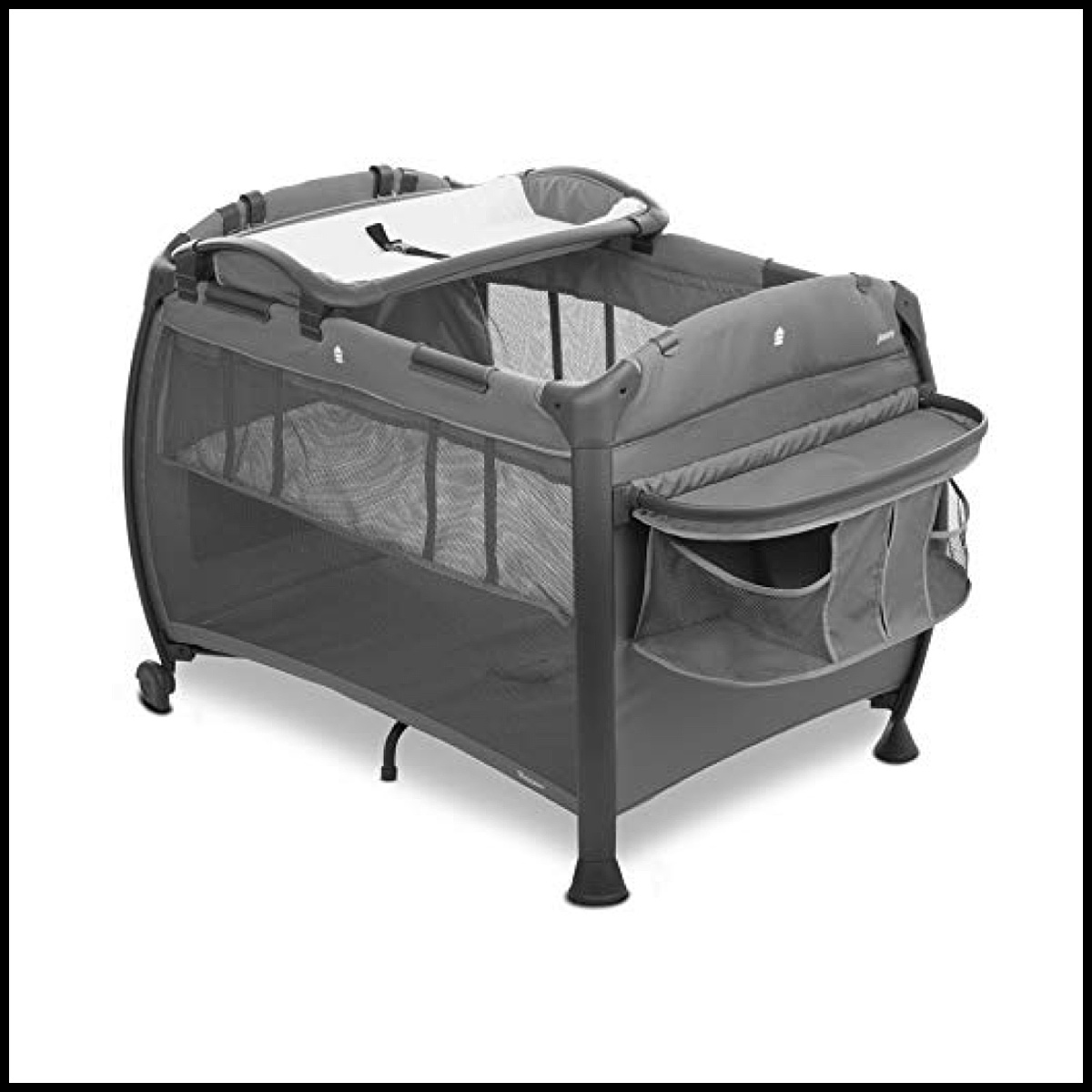 JOOVY PACK N PLAY– (On Amazon)
The pack-n-play is in our living room and where we do almost all diaper changes and store baby stuff. We have stairs in our home and this saves us from having to go up and down so much. We chose this brand because its awesome and we love their modern design. It fits into our decor without being too "baby" looking.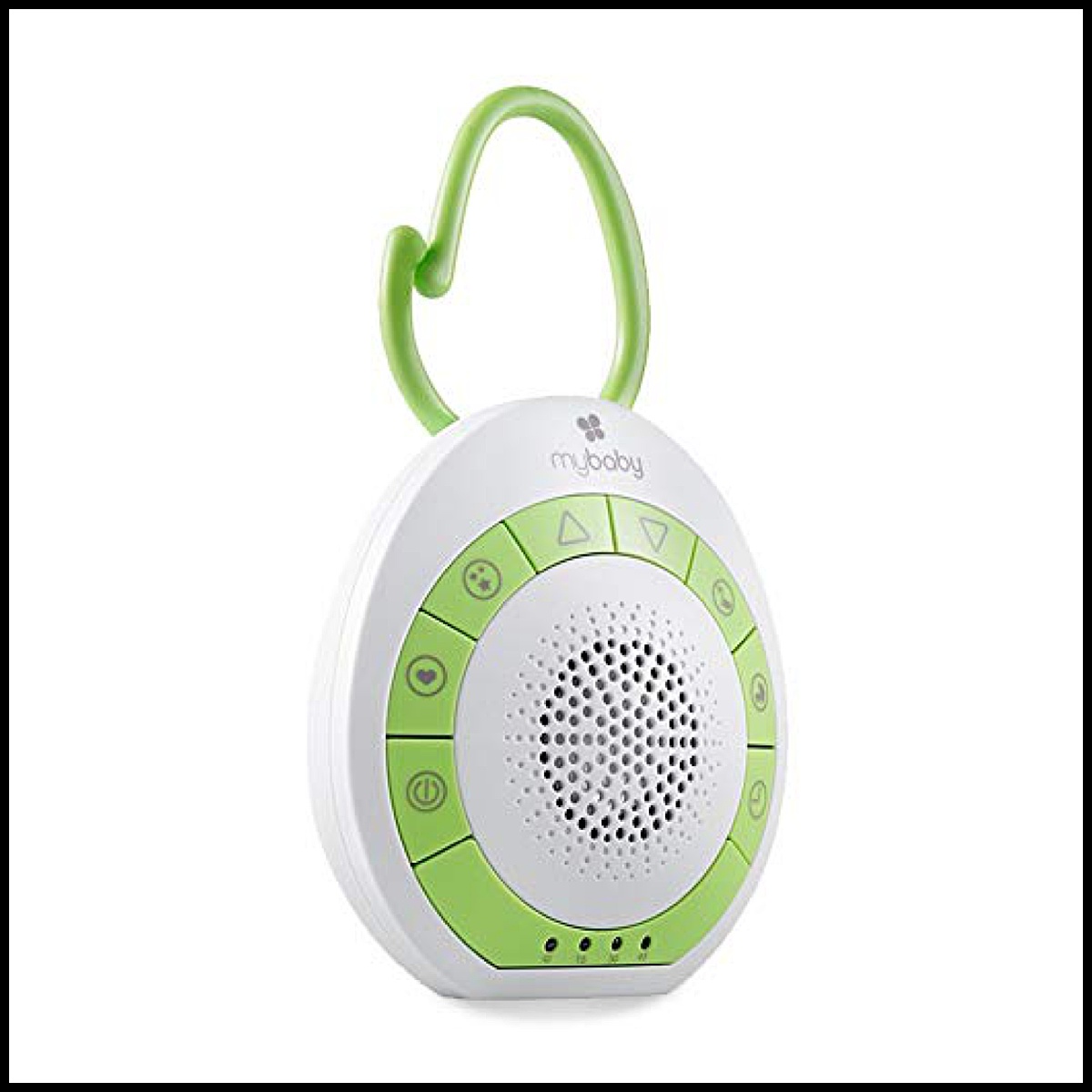 PORTABLE WHITE NOISE– (On Amazon)
We are a white noise family! We use an old iPhone in her room because of the loud volume. When she is napping in the living room we use this because it is a softer white noise and gentle volume. We don't to wash out all of the noise in the room so she will associate day and night with different white noise machines.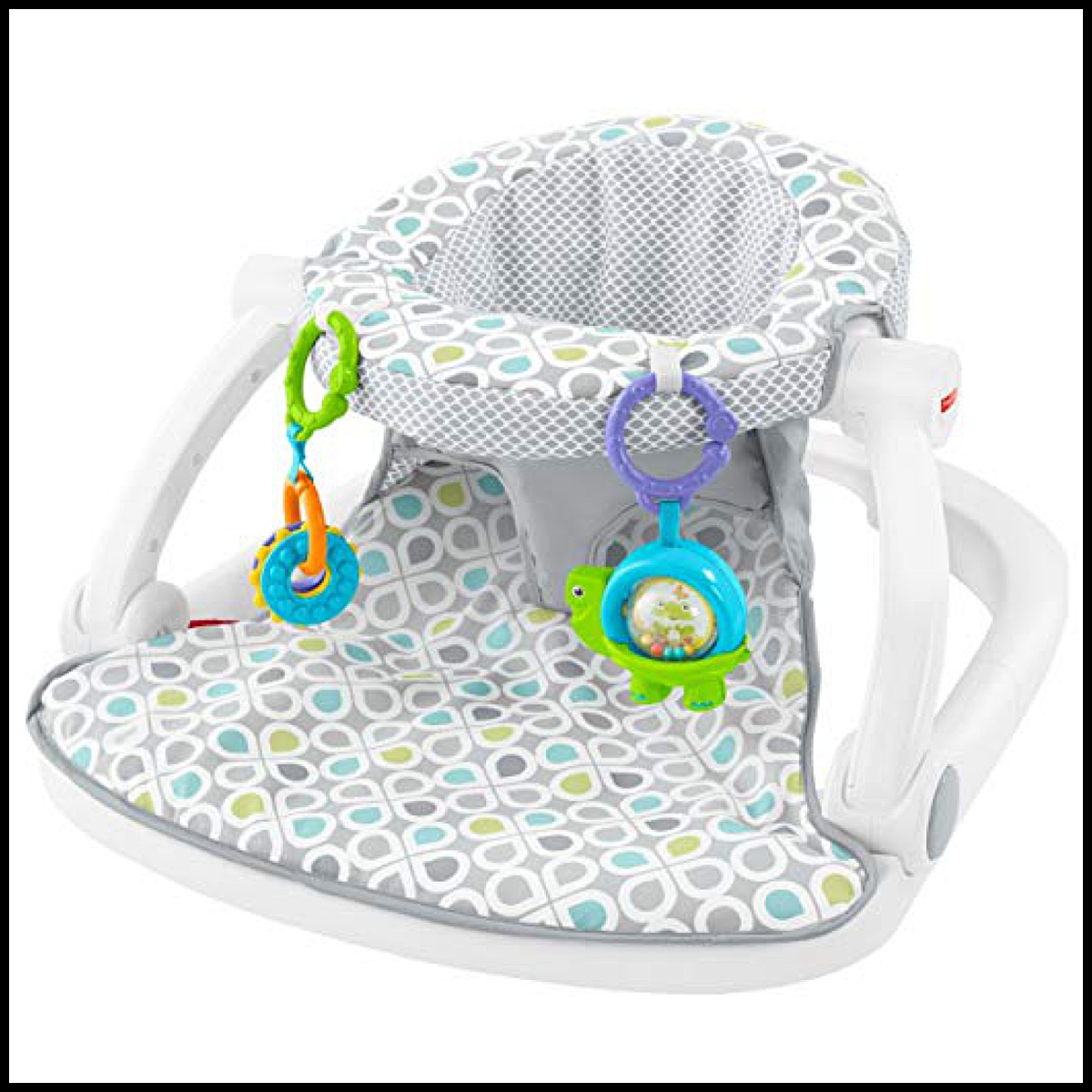 SIT ME UP FLOOR SEAT– (On Amazon)
Mabel loves to sit in this! It gives her great support and we sit her on the kitchen bar so she can watch us cook or eat at the kitchen table.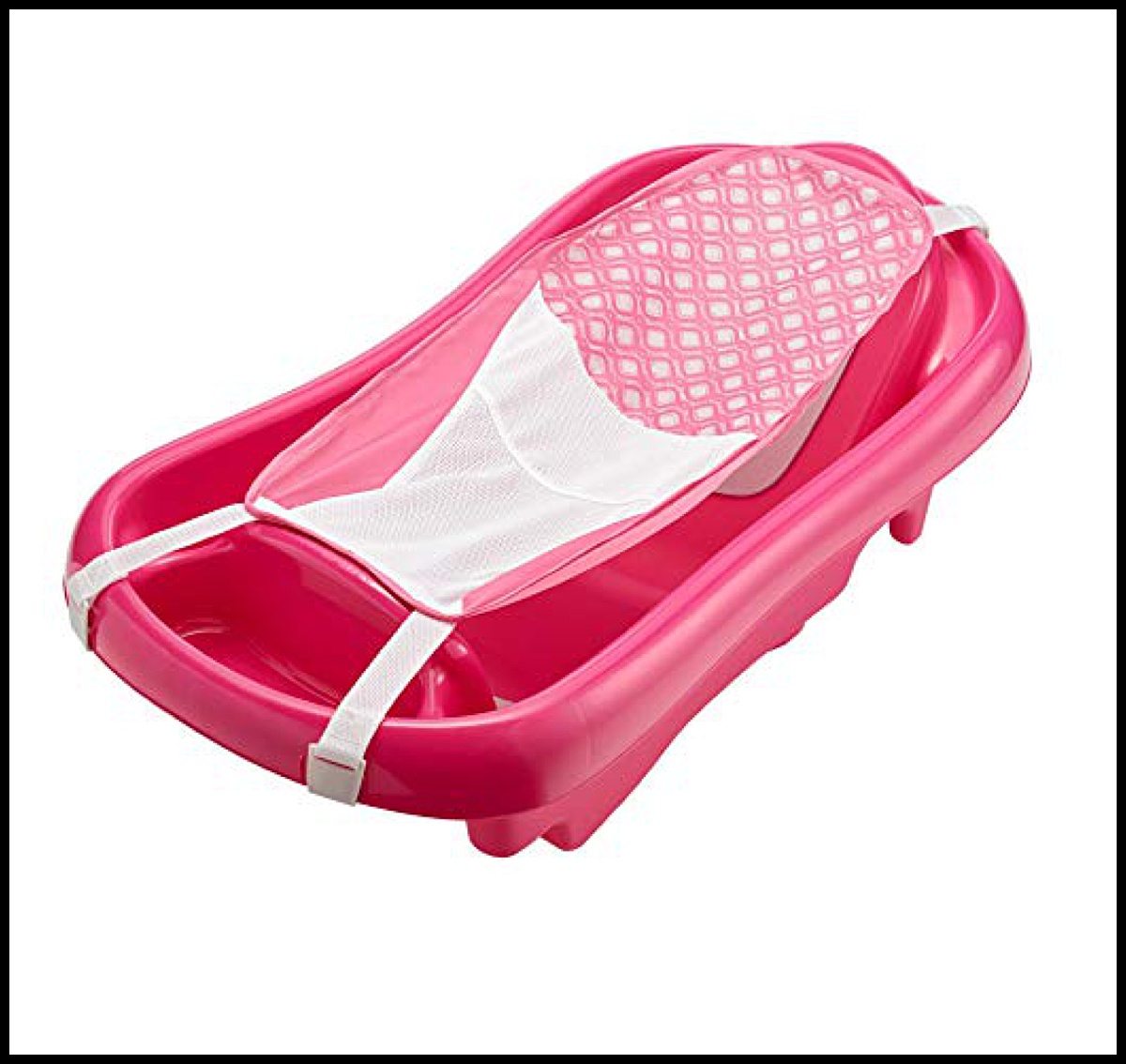 BATH TUB– (On Amazon)
Another thing we research for a while! This tub is awesome because it has 4 different stages. Newborn sling, laying position, a sit up seat, and then a tub! The thing that makes me super happy- it has a hanging hook! I hide it on the inside of the shower and hang from the curtain rod! Hurray!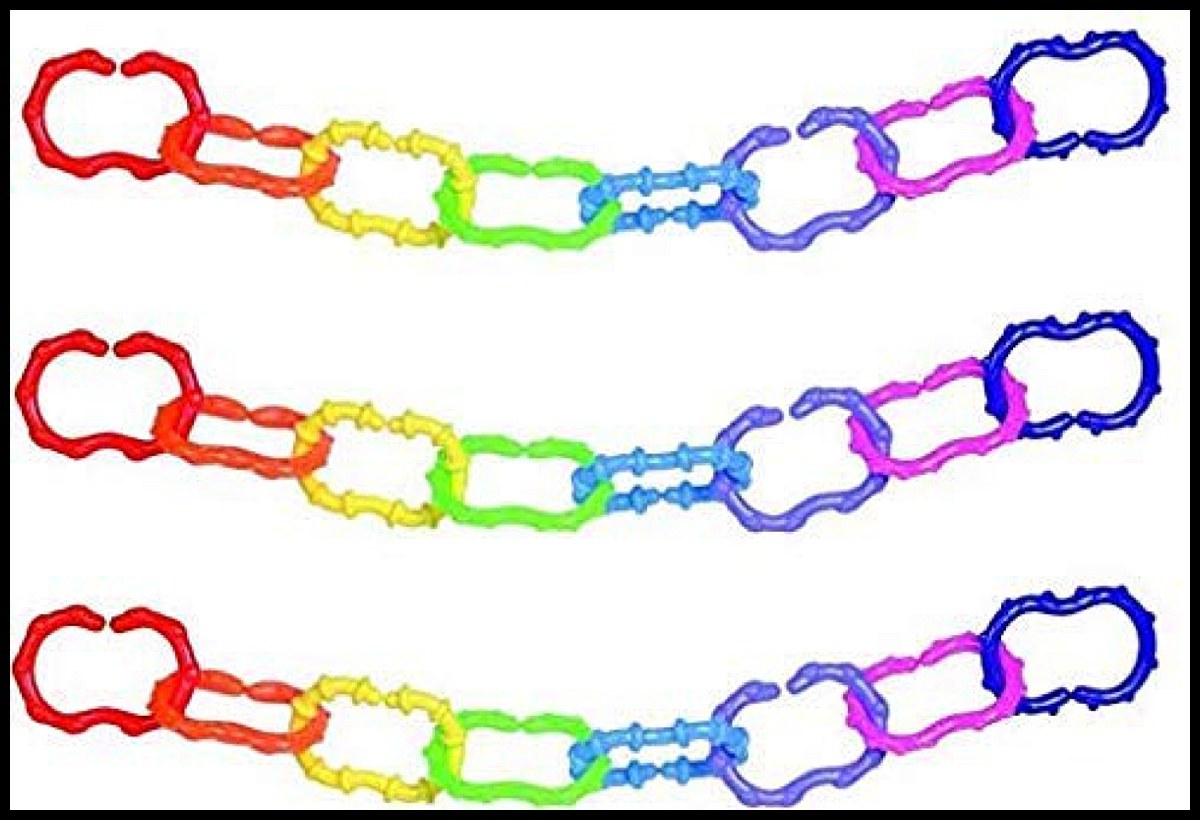 TOY CHAINS– (On Amazon)
We have been through 3 different kinds of toy chains. These are the best!! We use them for literally everything. Mabel loves them hung across her car seat and constantly is entertained. We also use them to connect to hanging toys to make them longer and easier for her to reach. GREAT purchase.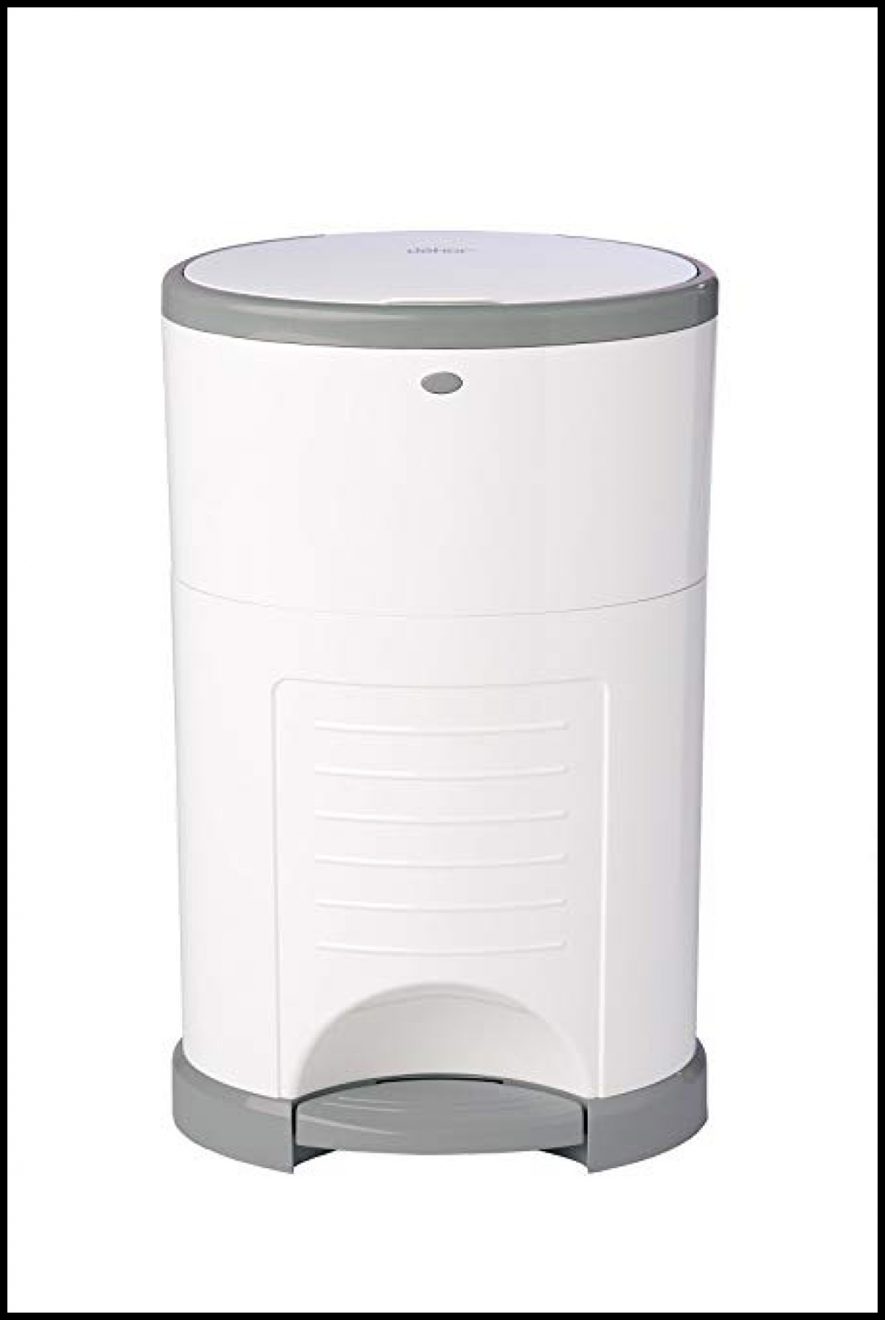 DEKOR DIAPER TRASH– (On Amazon)
Not all diaper trash cans are equal. No smell and no mess from this awesome thing! You can use the bags that come with the brand (which we recommend) but you can also use regular mini trash bags! Watch a video on this bad boy- it's really cool.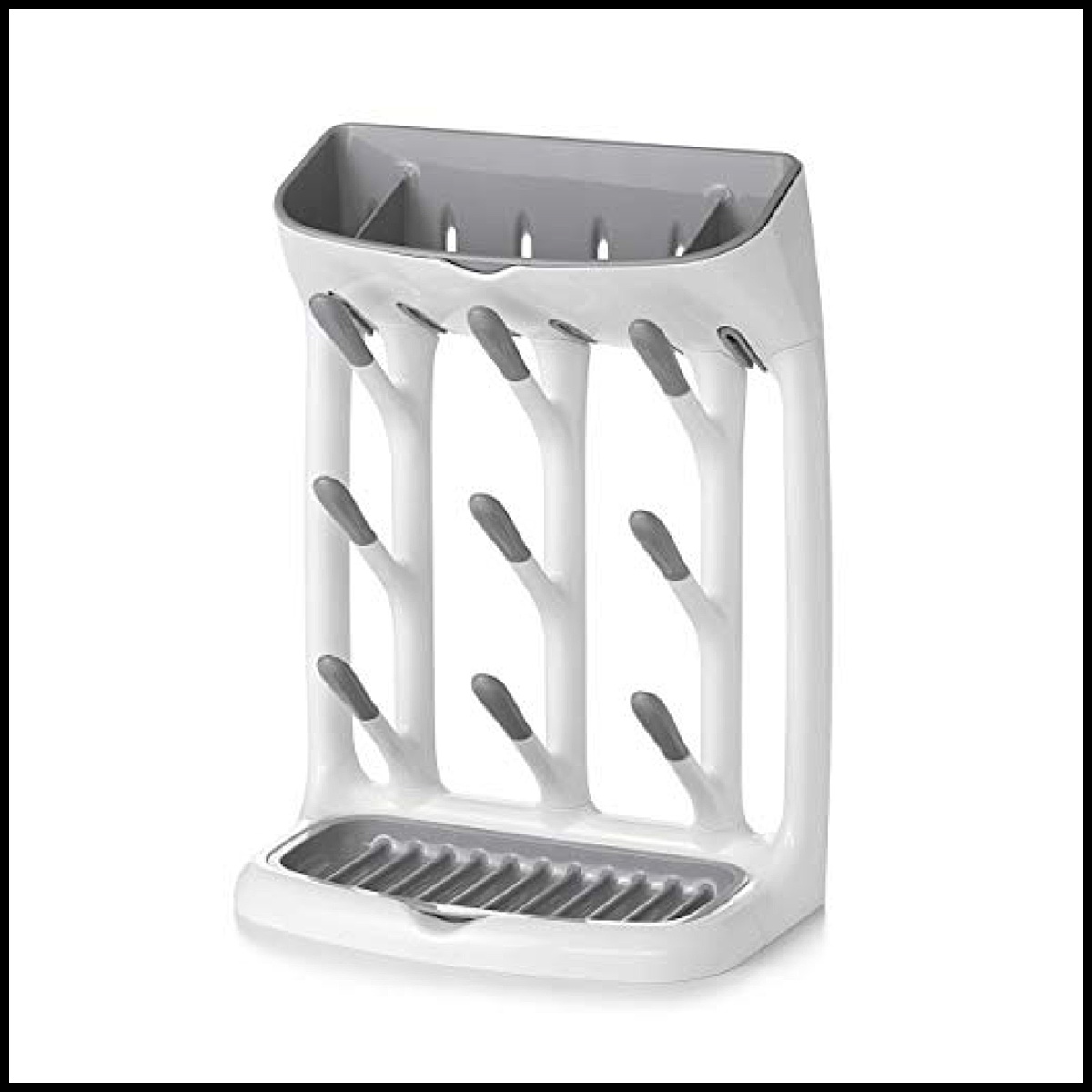 OXO BOTTLE RACK-(On Amazon)
This vertical bottle rack saves so much counter space! Great for small spaces!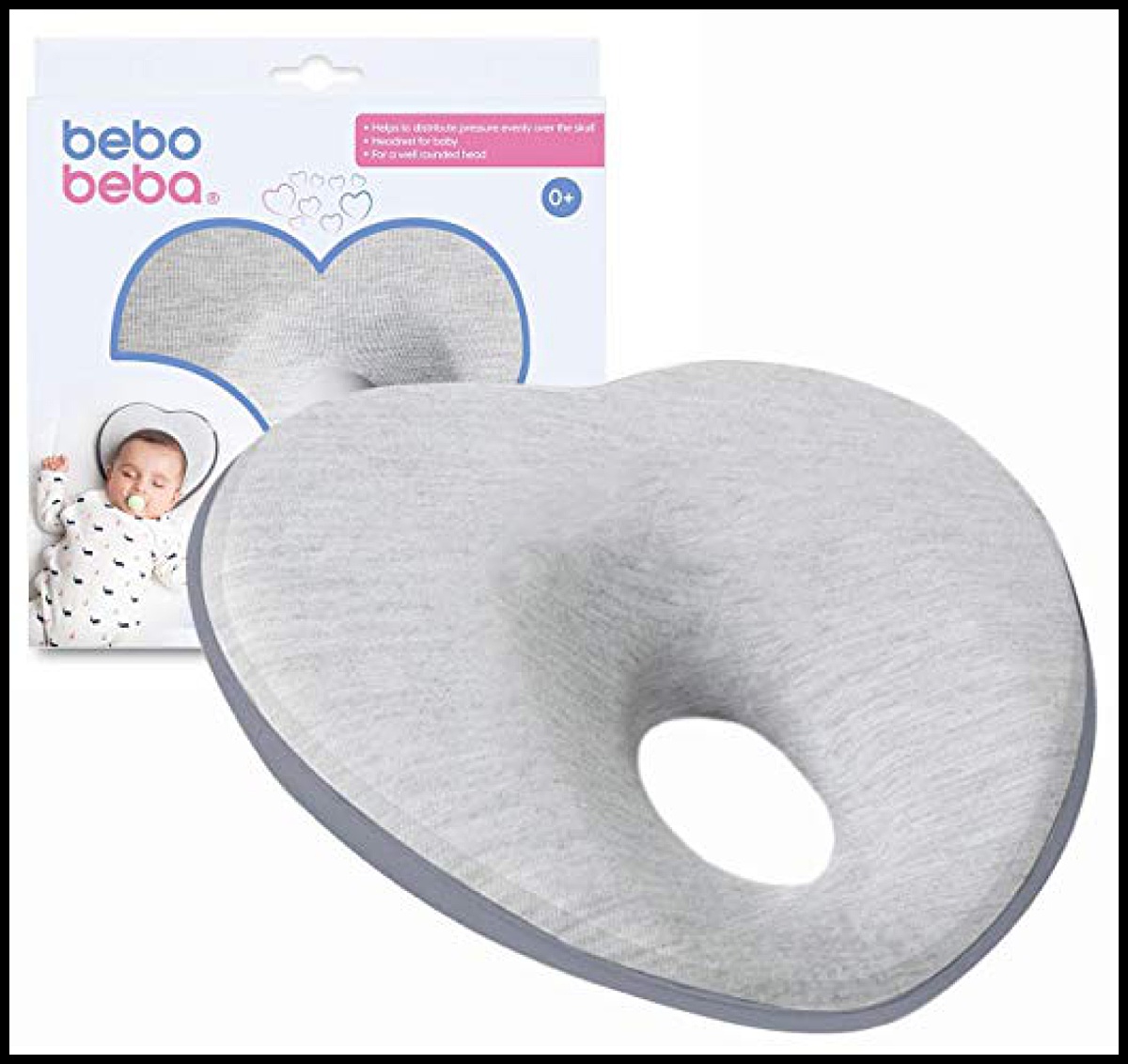 MEMORY FOAM HEAD PILLOW– (On Amazon)
No more flat head for baby! This pillow is so cool. I would even say to buy two so you can have them in different places. It supports their head and helps prevent the flat head that happens in the first few months of life.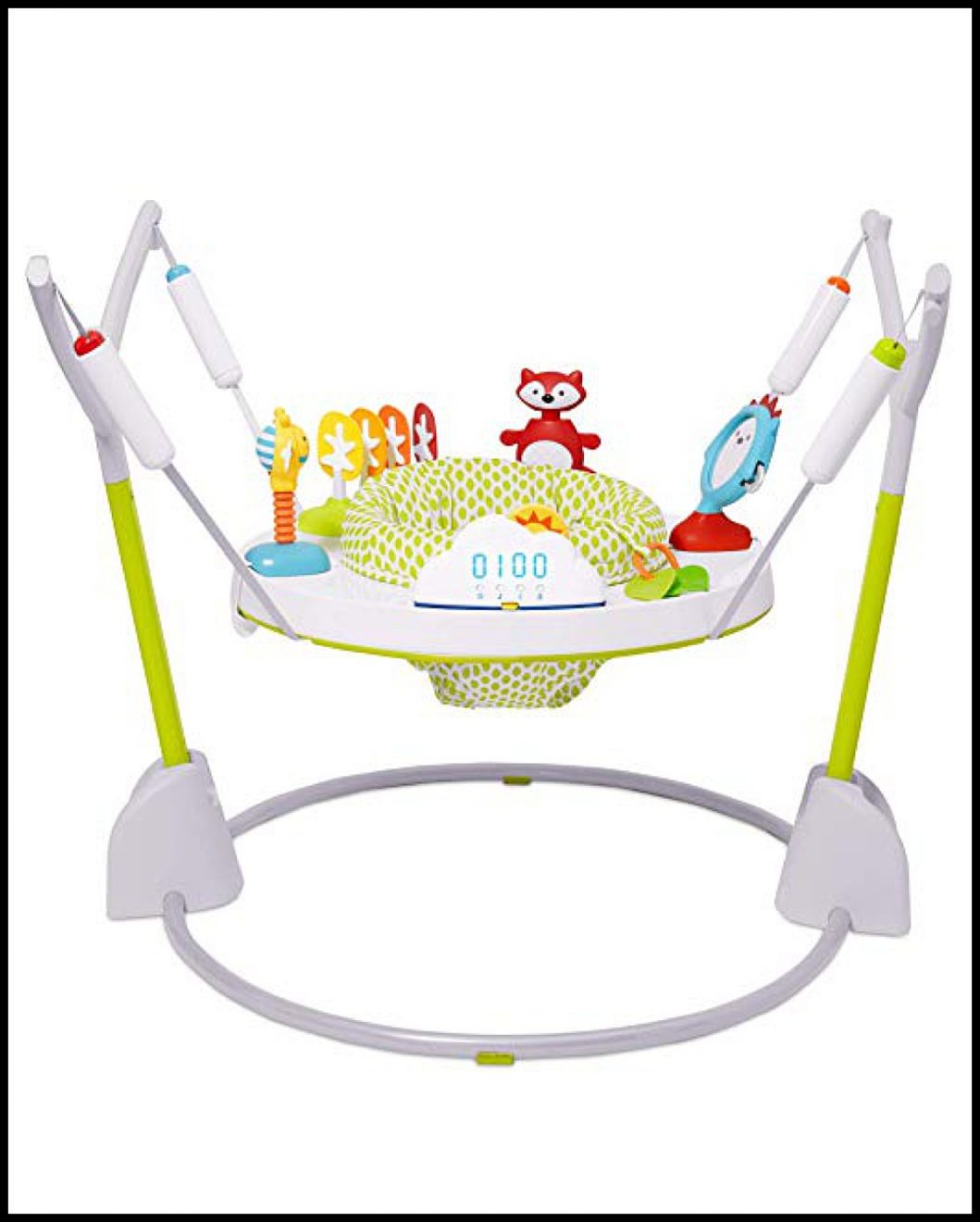 SKIP HOP JUMPSCAPE– (On Amazon)
Mabel is 4.5 months and is enjoying being upright most of her time awake. So, we are transitioning from swings and rockers to chairs and jumpers! This jumper is awesome! It counts her bounces, plays music, has easily removable toys for cleaning, and she truly enjoys the interactive toys that it came with. We stuff a blanket around her waste to help support her torso. The jumper is adjustable so we can change the height as she grows!
Leave some love