January 16, 2018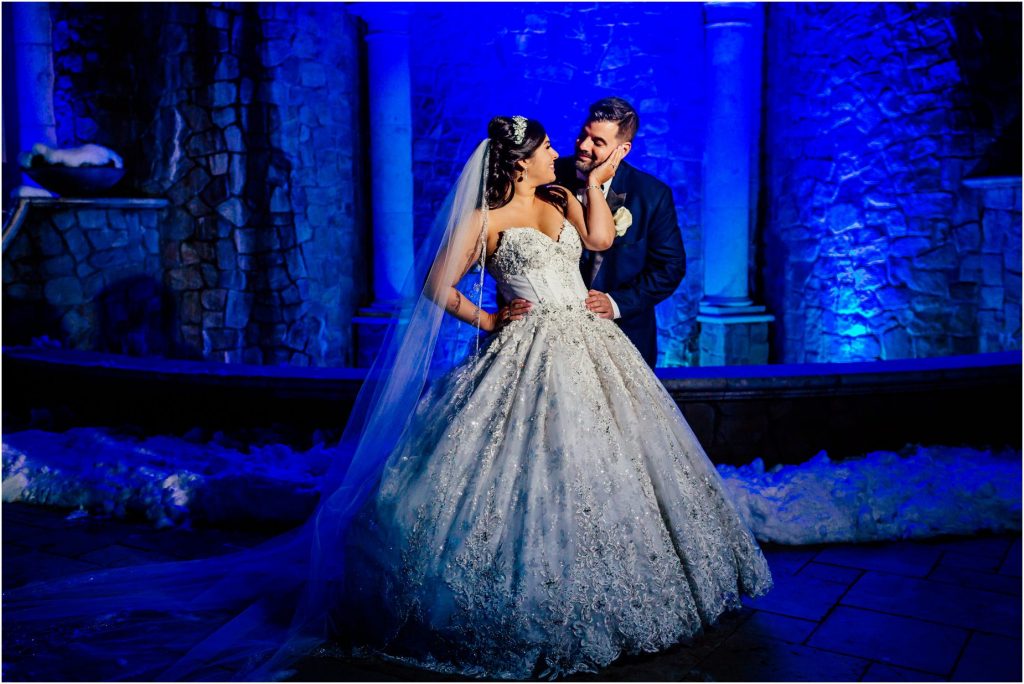 You guys!!! What an epic way to end our 2017 wedding season! These two beautiful souls tied the knot after a gorgeous snowy filled day that really made the perfect setting for their wedding. We love Greek traditions and love the importance they place on family. The ceremony would be held at one of our favorites, St. Andrew's Greek Orthodox Church. And the luxurious celebration would be held at The Venetian in Florham Park. But let's back up to the beginning of the day where the festivities began! Dennis and his guys were gearing up for the big day with drinks and good music when we arrived. They were fully dressed and semi-stressed about the bowties. Aren't all guys? It's the last thing you think about until its time to tie them. His friends all had their phones open and were trying to master the ever challenging bowtie conundrum. HA! The guys stayed persistent and together they did it! It's always hilarious to see the struggle and part of us always feel bad, but it makes for great photos! There was a toast and some scowling faces as they took a shot of liquor so early in the morning! And one of our favorite moments is when they handed a drink to Dennis with Jesus on the rim. HAHHAHAH! So glad Jesus could make it so early in the day. We headed down to the super chic lobby for some photos and goofing around before heading over to the girls. These guys were a blast and we knew the day was going to be better with them in it.
Christina and the girls were all prepping for the day in her mother's home. And what a beautiful home it was! Everyone was so sweet and genuinely thrilled that Christina's big day had finally arrived. As we headed upstairs and rounded the corner to the bedroom, I was in complete SHOCK at the gorgeousness of her dress. I mean-WOW. Absolutely incredible. Christina is not much taller than 5 foot and this was a whole lot of dress for such a small girl. We knew she was going to rock that beauty and her twirls in it were going to be epic. Kids were running around the house, playing video games, and moving in and around of the adults. We love kids at weddings because they add a dash of fun to what can seem stressful to most adults. Before we knew it, it was time to dress the bride! I remember asking Christina who all she wanted to help get the dress on. She laughed and said, "Everyone!" My goodness was she right! All hands on deck!! This dress as probably the heaviest dress I have witnessed and it was glorious! There were probably 5 layers to straighten up under there and all the girls were fluffing and making sure everything felt perfect. It was time to put the finishing touches on and head to the church to do this thing!
The ceremony was filled with family, friends, and the cutest kids on the planet. We love Greek ceremonies and the traditions with their symbolic meanings. Everyone has a very important role on the wedding day and we love that! Funny moment- Christina's dress was so heavy that the clasp broke and started to very slowly unzip. OMG! Her bridesmaid jumped to the rescue and zipped it up several times during the ceremony! Great catch! It was a gorgeous ceremony honoring the start of this fantastic couple's marriage. And let's just talk about the epic exit with rice! I was so excited when I was informed of this. These two were married and it was time to hit the road for The Venetian. Christina had handpicked every light, detail, centerpiece and it showed. It was like a Winter Wonderland in the ballroom. The big bride and groom introduction was epic and at the same time- hilarious! In the chaos of entering, Christina went down the stairs first and her dress was so big that Dennis was left trying to NOT step on her dress! They made it look cool and no one fell down the stairs. Major props to both of them! Their first dance was jaw-dropping! I mean fog…snow…and that custom lighting! It was perfect. The night was just the same as everyone enjoyed dancing to Greek traditional songs and blessing the couple with flying dollar bills. And look for that toe touch split photo! That was incredible!
We fell in love with these families just like we did with Christina and Dennis. It was an absolutely pleasure to get to know everyone and be welcomed so warmly. We are so excited to see where life takes you, Christina and Dennis. Cheers to your greatest adventure yet- marriage!
xx
Leaha + Jeffrey
Thank you to Krystal Pratt for assisting and shooting alongside us.
Click "LIKE" to let us know you were here!
Join us on INSTAGRAM & FACEBOOK
Thank you to all of the vendors who made this wedding unforgettable!
Hotel: Hilton Parsippany
Church: St. Andrews Greek Orthodox Church
Venue: The Venetian NJ
Hair & Makeup: Gillian Moritz–Beauty Artist Group
Wedding Gown: Stephen Yearick
Bride's Shoes: Jimmy Choo
Bridesmaid Dresses: Amsale
Tuxes: Ike Behar
Floral: Allure Florals
Cake Artist: Palermo's Bakery
Lighting & Special Effects: Magic Moments
Music: JTK Entertainment
Video: Ambiance
Leave some love