November 19, 2016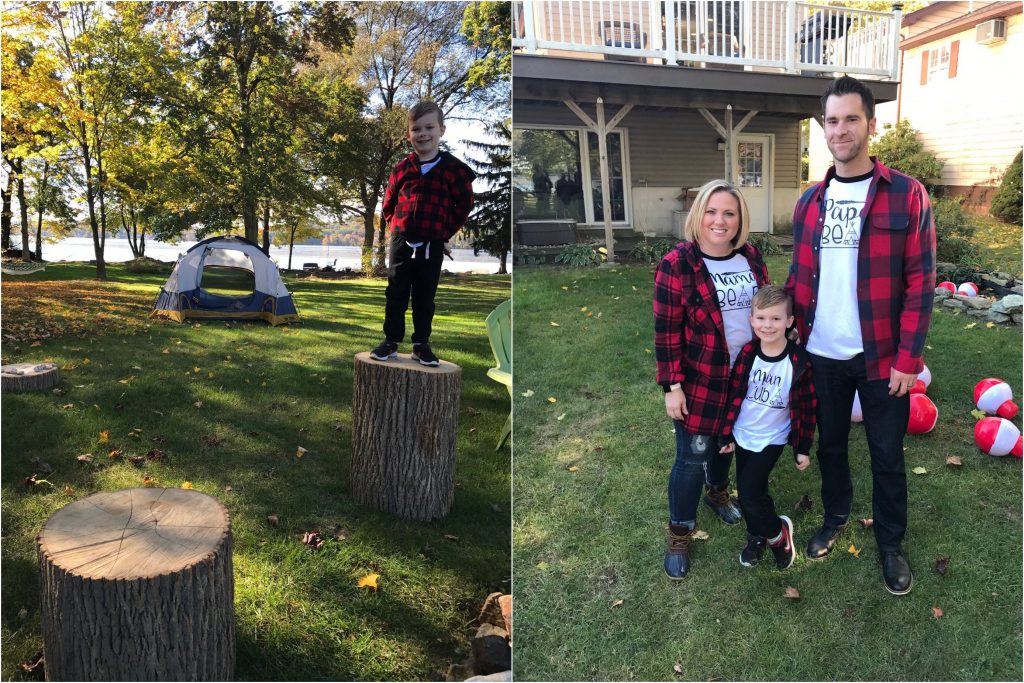 Well, I said I wasn't going to go crazy for another birthday party, but I somehow slowly talked myself into it. Watching our son, Trace, enjoy his friends in his own backyard is unmatched. Everyone always asks me if I'm crazy. Some ask me if I want to do this as a side job. To both of these questions, I answer- probably! 🙂 This year's birthday party was a little different as we would be hosting up to 15 little kids! The elementary teacher in me really comes out when I throw these parties. My room always had a theme and I loved letting my kids have fun. Nothing has really changed! I love to throw these fun, themed parties in for Trace and sometimes in for my friends! Why not?! It typically takes me about a month to pull everything together. The last 2 days are insane! Being wedding photographers made it a tad more difficult because we had a wedding the day before! Whew! No rest for the crazy!
OK! So the camp theme was something that our backyard was screaming for. We had cut large stumps for seating and side tables for people to use as drink and food placements. Our home came with an amazing backyard overlooking the lake and it just hit me… CAMP! Jeffrey is an Eagle Scout. So, between my creativeness and his loyalty to having a killer camp out party- we were excited! Buffalo plaid was in season and the weather turned slightly cooler with the warm sun peeking through the trees. Like most of you, I find a lot of my inspiration from Pinterest and Etsy. October is our busiest wedding photography month, so I did purchase several items to help the theme take shape from stores online. But I would say that 70% of what you see came from my home or from my yard. That was the beauty of the camp theme. I didn't have to go out and purchase a ton of stuff!
Like all good camps, there was an agenda for the afternoon. The most popular sport of the day was definitely the giant bobbers! The kids' imaginations were running wild. The adults even had fun playing tic-tac-toe on stumps with tape and X/O labeled rocks. We just taped the # and took some rocks from around our hot tub and drew X's and O's with a red permanent marker. THEY LOVED IT! So simple! We left one of our canoes out along with a giant tent. The kids played for a solid 30 minutes with just those few things! We then brought them all together and had a fun round of sack races and egg races. The kids then paired off in teams with an adult and went on their own adventure around our home and neighborhood to find and collect things in nature. They were all so excited to show us what they found! We then took the kids to the edge of the lake when the sun was starting to set over the water. They were all giddy with excitement because they wanted to be the lucky one to catch a real fish! Their little faces lit up like Christmas and bursts of cheer would ring out here and there when someone would pull a tiny rainbow fish from the lake. The kids would name their fish before we threw them back in the lake to join their family. 🙂
We rented two tables and chairs for the kids to have a place to sit. We learned from past parties, that you don't really need seating for the adults…they are too busy chasing kids. A fun tip we learned while planning was to use a twin sheet as a table cover! To tighten the loose ends or sagging sides, simply tie it back with a hair tie. When the party is over, throw it in the wash and reuse! All good parties have FOOD! Having lots of snacks and munchies keeps everyone happy and really helps round out the theme you're going for. I get all my plastic and glass serving dishes from this cheap store called Amazing Savings. It has great party supplies that I gradually collect from party to party and reuse each year. I literally went around my house and collected things that looked rustic. The funny thing is…after most weddings I take something as a "keepsake" of the wedding. My brides are very aware of my odd habit! When putting this party together, I used quite a few things I have collected from actual weddings! Crazy! We precooked all of the hot dogs and used "grub plates" to feed the masses.
There is a perfect way to end a great camp party- S'mores! The s'mores cups were so kid friendly. Each cup had giant marshmallows, a wrapped chocolate bar, and several crackers. Jeffrey had a nice little fire going and the kids used our antler roasting sticks to heat up their gooey marshmallow delight. One of the biggest highlights on the food table was the custom cookies by Maria. Holy detail, batman! These things were amazing!!!!! I hated to even eat them. They were carefully placed in a tackle box on the table for everyone to enjoy. Not a single cookie was damaged in shipping, the cookies tasted delicious and everyone took their favorites home. YUM!
To send off our happy campers, we gave them each a hobo bag filled with camp goodies. It was a perfect day for a camping party. Trace had the best time. The parents had a great time and I feel super excited we created new memories with his friends. Thank you to everyone who came to celebrate with us! Be on the lookout- your thank you card will have your merit badges from all the activities you completed at CAMP TRACE! Congrats!
Thank you to Christina B for taking some of the party photos for us! You're the BEST!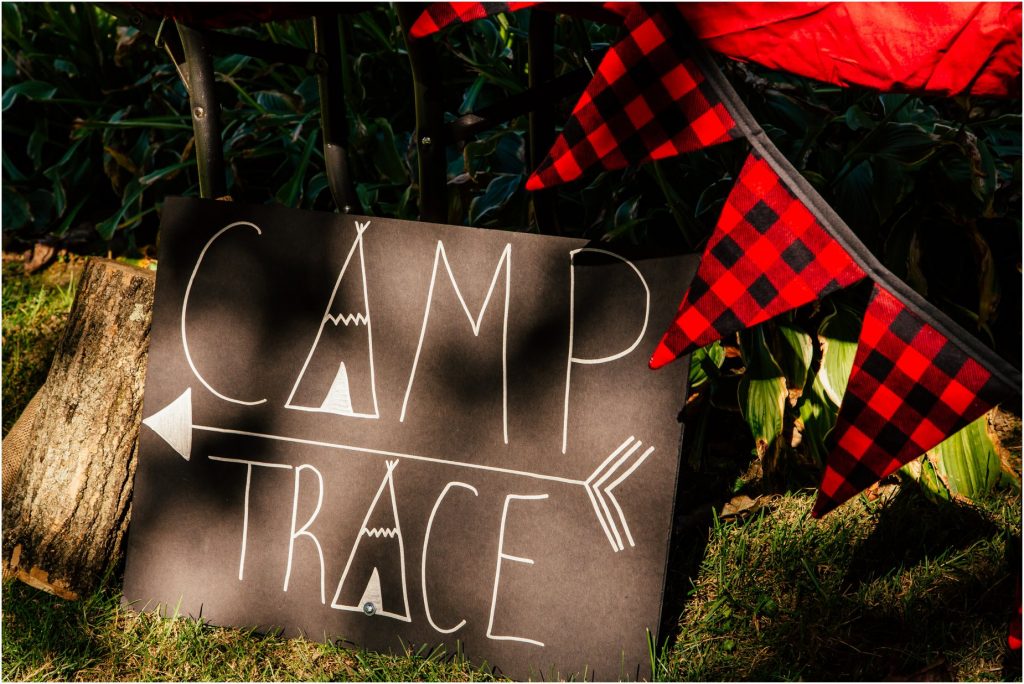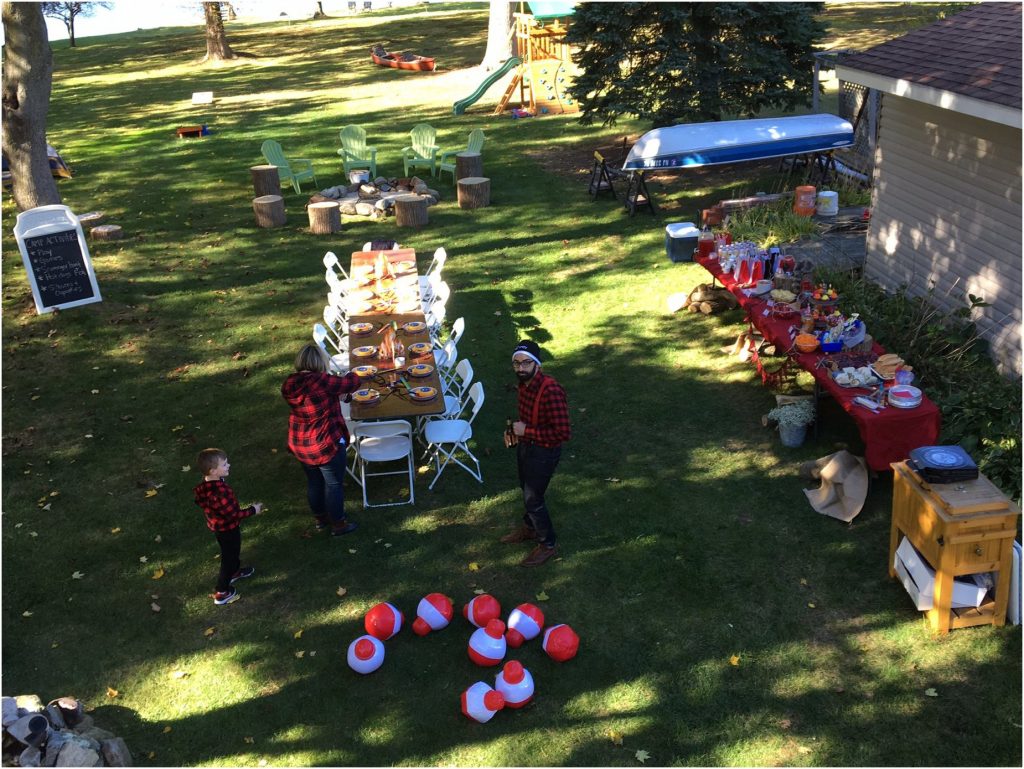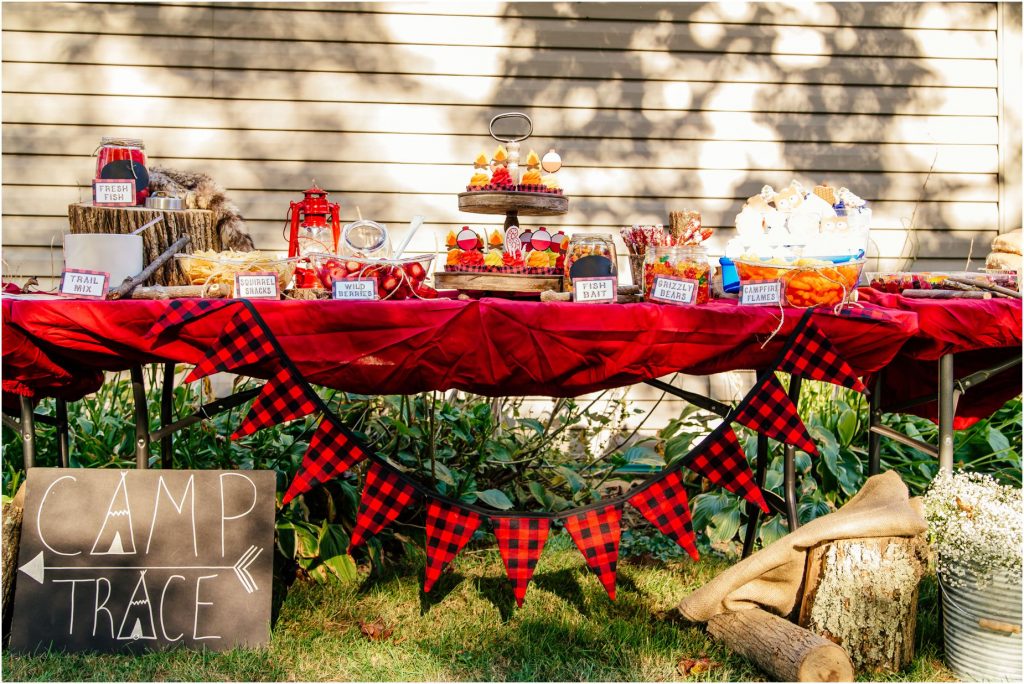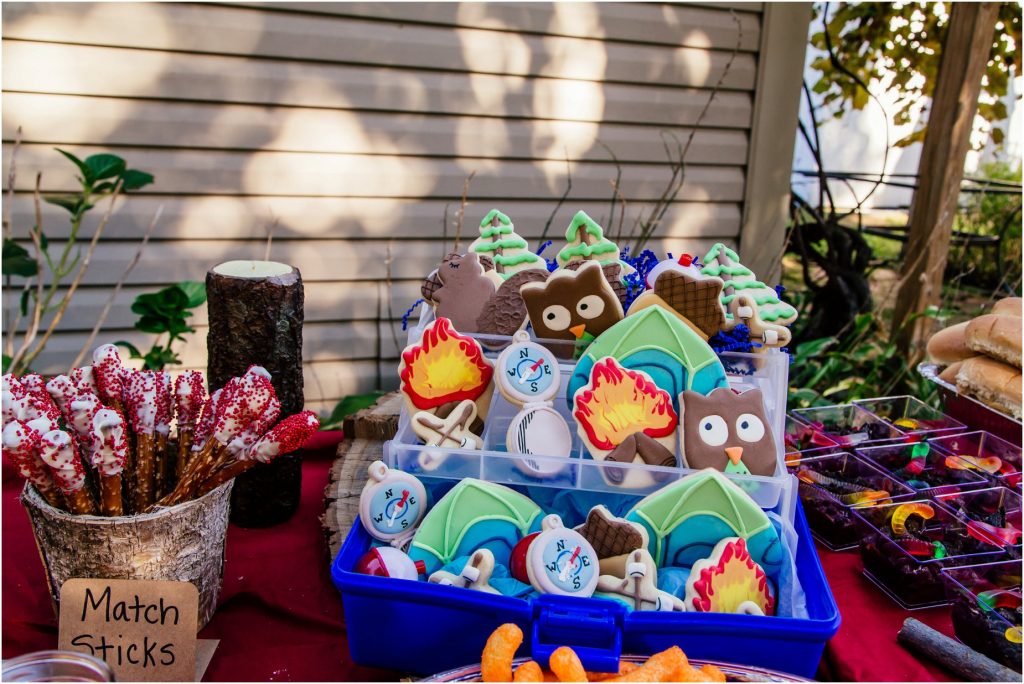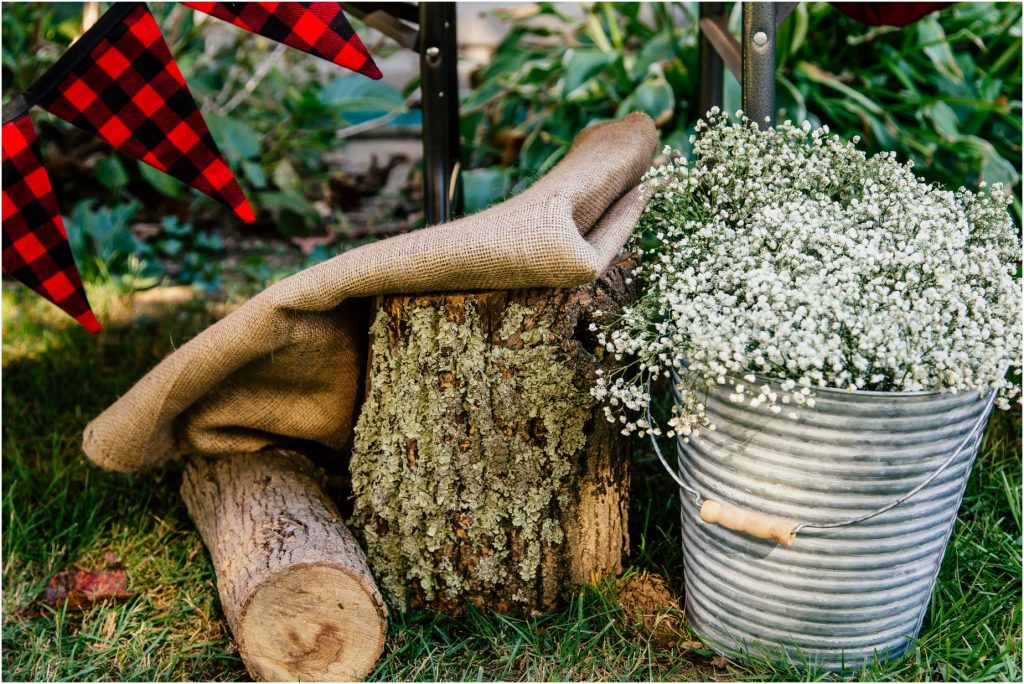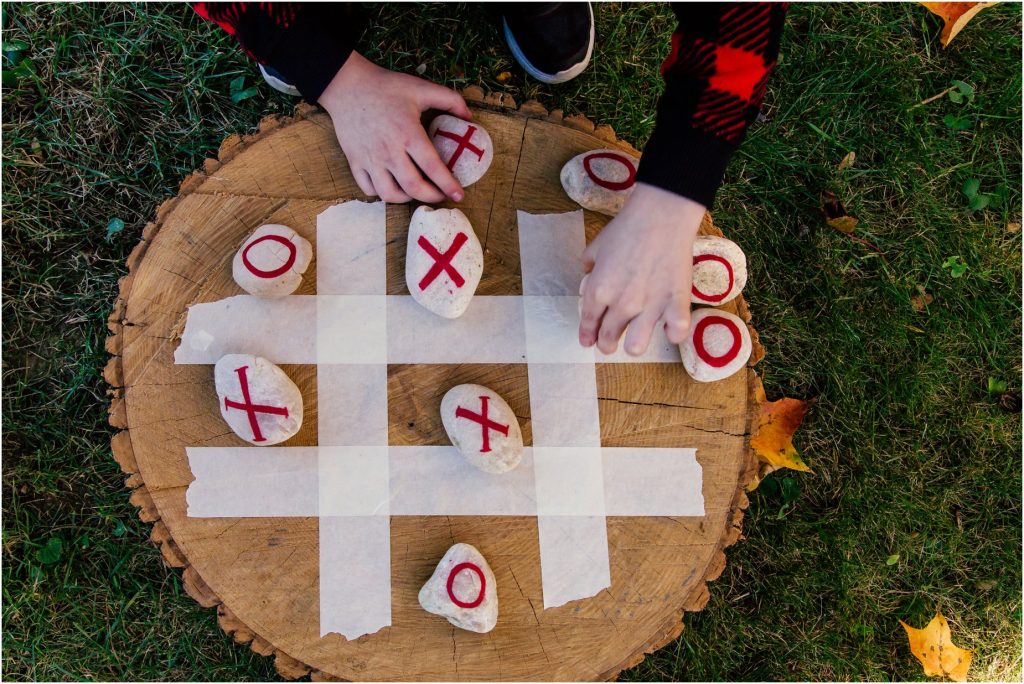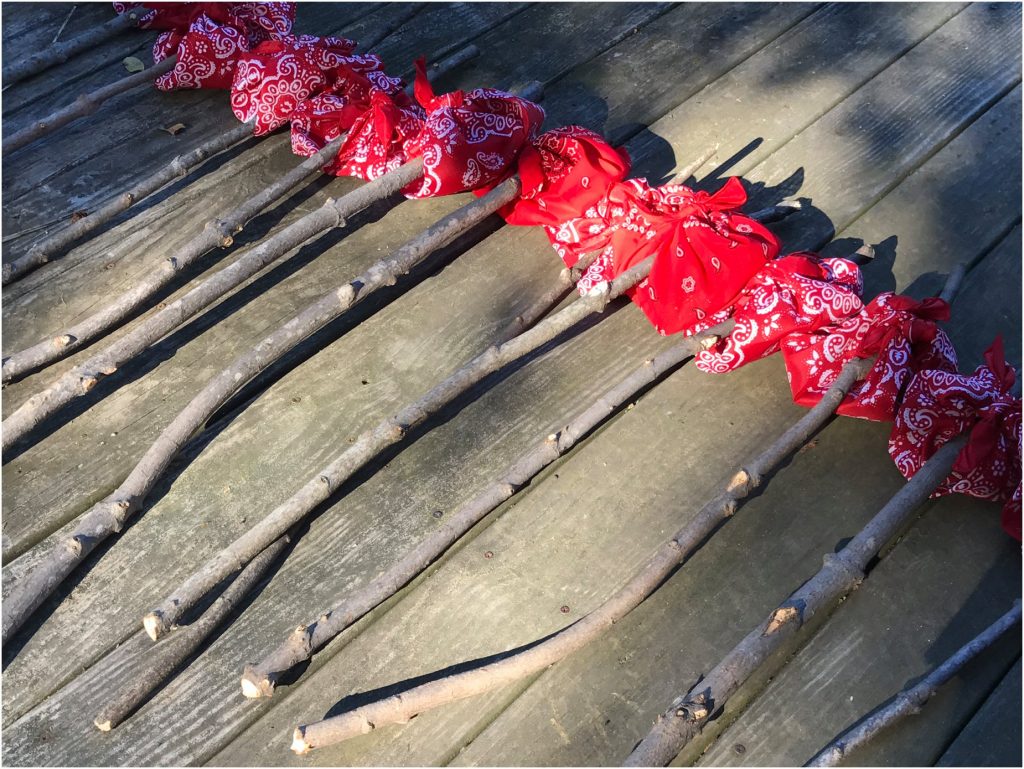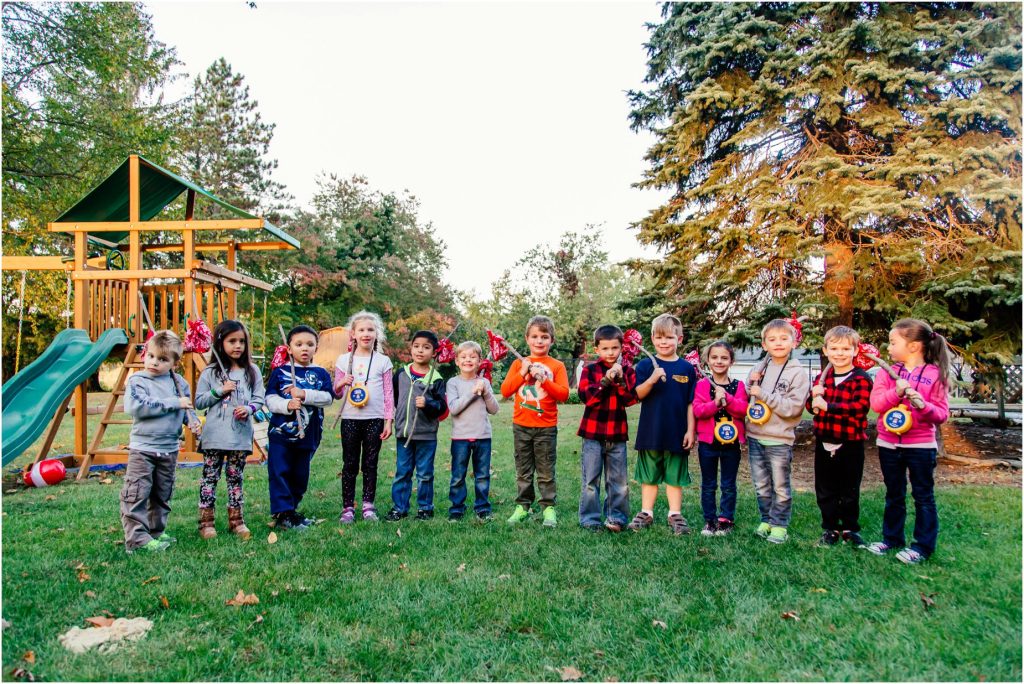 Click "LIKE" to let us know you were here!
Invitations: Wamp Designs
Custom Cookies: Dolcelicious Bake Shop
Matching Camp Shirts: That One Crafty Couple
S'mores  & Drinking Cups: Divine Glitters
Custom Canteen Tags: Sara Luke Creative
Buffalo Plaid Tags: Sunshine Tulip Designs
Cupcake Toppers: Scrap Starz
Lumberjack Fabric Banner: Gundys Wood Shop
Canteens, Bandanas, Giant Bobbers: Oriental Trading
Stumps, Sticks, Rustic Decor: Collected from inside and outside of our house
Leave some love