Belly To Baby
Family
Lifestyle
November 19, 2015
There really isn't anything more magical and mysterious than being pregnant. Having two children myself, I know first hand that it is one of the most amazing journeys. As many stories as you hear about carrying a child- not one is exactly alike. Each woman has her very own story, experience and glow. It is the single biggest miracle that we witness in our lives and being able to preserve a glimpse of this time for Danielle and Carmine was such treat! These two are so much fun and gearing up for a sweet baby in 6 more weeks. Danielle contacted me because she saw her friends engagement session on the blog. She was super excited to get outdoors before the winter comes in and takes over. As soon as we connected we started researching and dreaming of what she would wear. Etsy is my go-to for when I want to find something unique and gorgeous. I was lucky enough to find Sew Trendy Accessories. She makes gorgeous maternity wear that is unique and amazing quality. She fell in love with a dress and we picked the color together. It was safe to say we were SUPER excited and planning was way too much fun! When the dress came in, we decided to meet up at a TJ Max and sneak into the dressing room to try it on! We both felt so rebellious…but its totally legal and ok.  It was a perfect fit and I think she mentioned she could live in this dress because it is so comfy! We were both very excited to bring Carmine into the plan at the shoot.
It was a chilly day at Skyland's Manor, but it was a sunny day too. Thankfully my giant blanket scarf and the warm sun were enough to keep this pretty momma warm. The navy gown was a perfect fit and looked amazing on the pre-winter backdrop. We were running around the grounds dodging brides and wedding parties. Apparently there were two weddings happening and we kept trying to stay out of the way! We found this glorious tree filled with sunsetting light. It was like HOLY MOLY! They stayed warm and I did a happy dance- it as a win for all of us! The wind picked up her gown and I noticed she had a tattoo on her belly. Then Carmine informed me he had a full sleeve. Bring on the tattoos! I think it turned out super sexy.
Gah, I loved this session. I can't wait to meet the little one that will soon enter their lives. I am overjoyed for both of them and honored I was able to share in this magical time of their lives.
xx
Leaha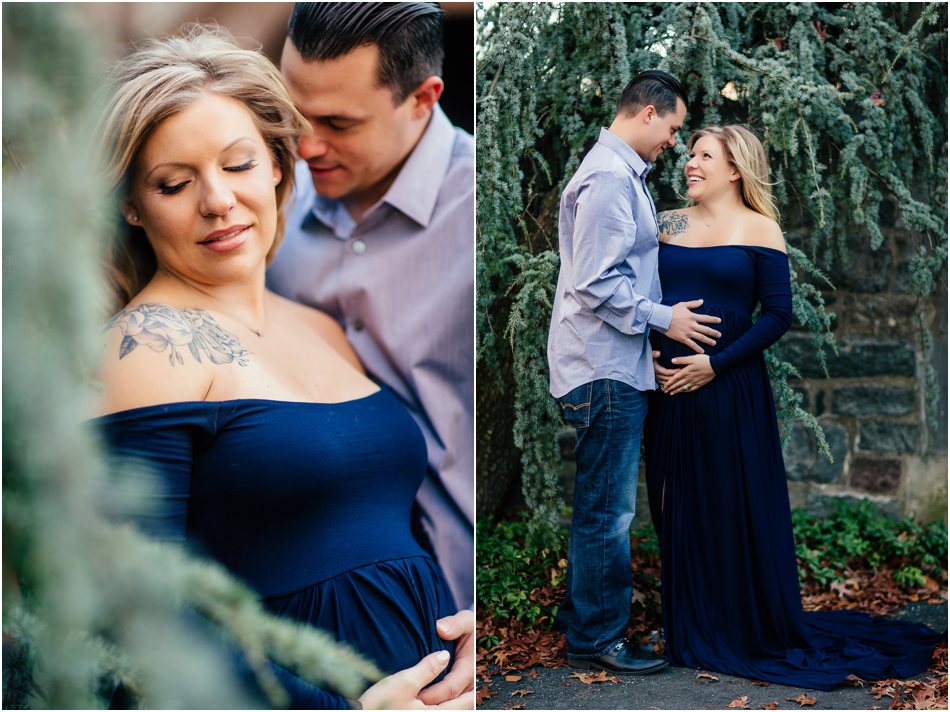 Click "LIKE" to let us know you were here!
Join us on INSTAGRAM & FACEBOOK
Leave some love