Engagement
For Photographers
Personal
Seniors
Weddings
January 8, 2013
The season for change has arrived. Change is always exactly as you think it will be…Challenging. It is hard to make a change. It's hard to accept change.
But, with my faith in God, I completely surrender my business and future to what He wishes for me.
I am often given dreams…at night I will be given insight on things I should do. Some may say its a marketing plan, but I call it a vision. The promotional video is just that. God gave me a very distinct story and idea and I immediately reached out to the people I trust the most. Milad Nazeri and myself decided to reach out to our resources and see if anyone was down to put together this little idea I had. We made a few phone calls and made a dinner date to see who might show up. Would you believe it? EVERYONE showed up and were willing to give of themselves freely towards the project. The Dallas skyline was in my view as we sat and discussed extensions of their art and craft and how we could highlight their talents in the project.
Fashion Designer, Choreographer, Director, Editor, Video Guys, Dancer and little ole me, the Visionary.
In less than 4 weeks we had already had a dance audition with Andony Ybarra who choreographed the reception scene. We cast the roles of our characters and sat over a table for many hours storyboarding with the great, Darius Taylor. It was time to shoot and we picked the perfect place, AgorA Entertainment. These guys are top notch and their studio is not only available for larger film projects, but smaller projects too. They welcomed us with open arms into their high class facility. 9 Hours later- we wrapped up the day and the real work began. Many…many..many weeks and hours of re-looking and re-editing finally landed the video in Chris Levario's hands. He worked his magic on the video and helped it reach its final stages for the 'fancy' stuff with our very own, Milad Nazeri.
God had a hand in this project. Everyone gave of themselves and I deeply and sincerely thank you. You made my vision and my dream come to life.
To everyone involved- God bless you!
To everyone who watches- Let us know what you think! and whatever you do….keep dancin'!
xx
Leaha
NEW look, NEW vision, NEW year
THANK YOU to Vitamin Water for Sponsoring our video 🙂
CLICK THE PHOTO TO SEE THE NEW SITE!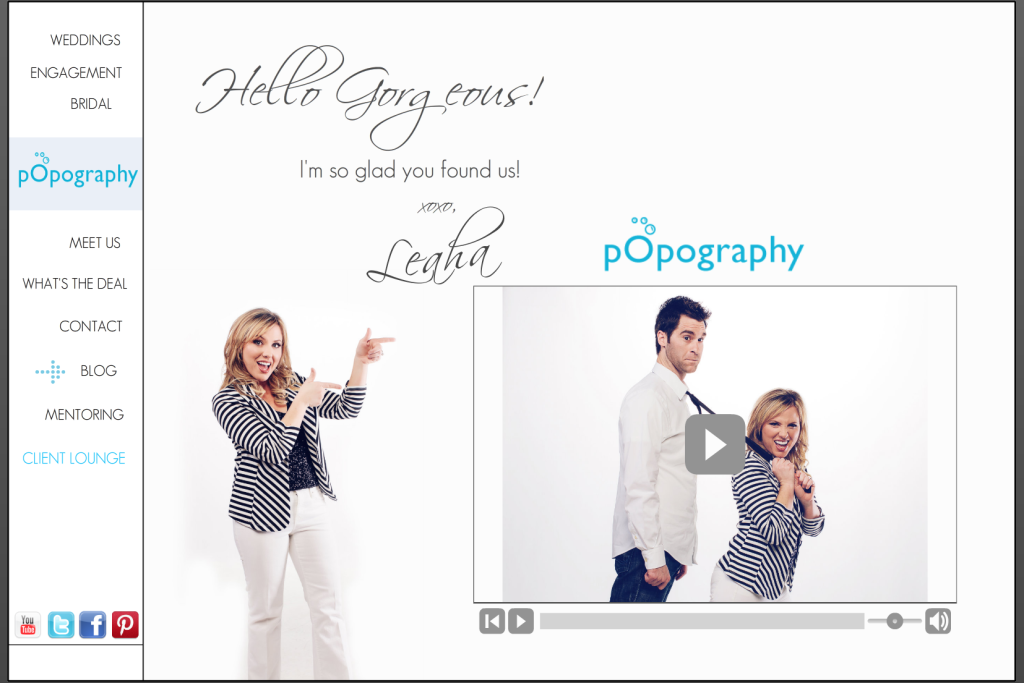 CREDITS
POPography Team: Leaha Bourgeois, Jeffrey Bourgeois, Milad Nazeri, Joey Armin, Bobby Kurtz
Sponsored by Vitamin Water
Director: Darius Taylor
Editor: Milad Nazeri
Producer:  Leaha Bourgeois
Color Correction: Chris Levario
Camera Men: Milad, Bobby, Joey
Choreographer: Andony Ybarra
Studio: AgorA Entertainment
Hair: Claudia Alvarado
Makeup: Melissa Walker
Catering: Texas Catering Company
DJ: Matt E.P.
Song Credit: Calvin Harris feat. Ne-yo "Let's go"
Dress Designer/Stylist: Elia De Leon
Decor: Shaye's Decorations
CAST
Senior/Band/Groom: Loui (The Singer)
Preacher: Joey Armin
Bride: Lauren Jackson
Band/Groomsman: Mike Russell
Band/Dancer: Skylar Halliday
Band/Dancer: Tristan Blaine
Bridesmaid: Lacey Jackson
Dancers: Zsbraun Rand, Mose Thomas, Joella Phillip, Criscilla Anderson
Extras: Susan McMaster, Tessa Miller, Sharon Sandifer
Leave some love