For Photographers
Personal
April 4, 2012
So, the cat is out of the bag. I have my dream job. Sometimes I feel like the luckiest gal on the planet. Not to get all mushy and gushy, but I think its important to know a little bit about the background of this team we call "POP"ography.
Almost 15 years ago I was a part of an online community full of music lovers. I was in college working on my music ed degree and an avid electronic music fanatic. My friends started calling me the "Angel" of the group. Boy did I have them all fooled 🙂 And then it lead to me being called "Angelpop" as my screen name. Eventually I turned it into Leahapop because it sounded more grown up to me and after all, I was 19! ha The name just kind of stuck.
Let's fast forward to 2007. My income tax return was on its way and I had big plans to put this money to good use. My mom and I had small conversations over the years about wishing we could take on photography. I was ready to go all in and bought my first DSLR. It was a Nikon. It was small. It was not a professional camera. It came with a kit lens and I was now feeling like the coolest kid on the block. I lined up mini sessions with anyone that had a smile and was willing to sit through all my ideas. There were plenty willing–and I was grateful. In the beginning I wanted to shoot ANYTHING and EVERYTHING. And I did. (these photos make me giggle)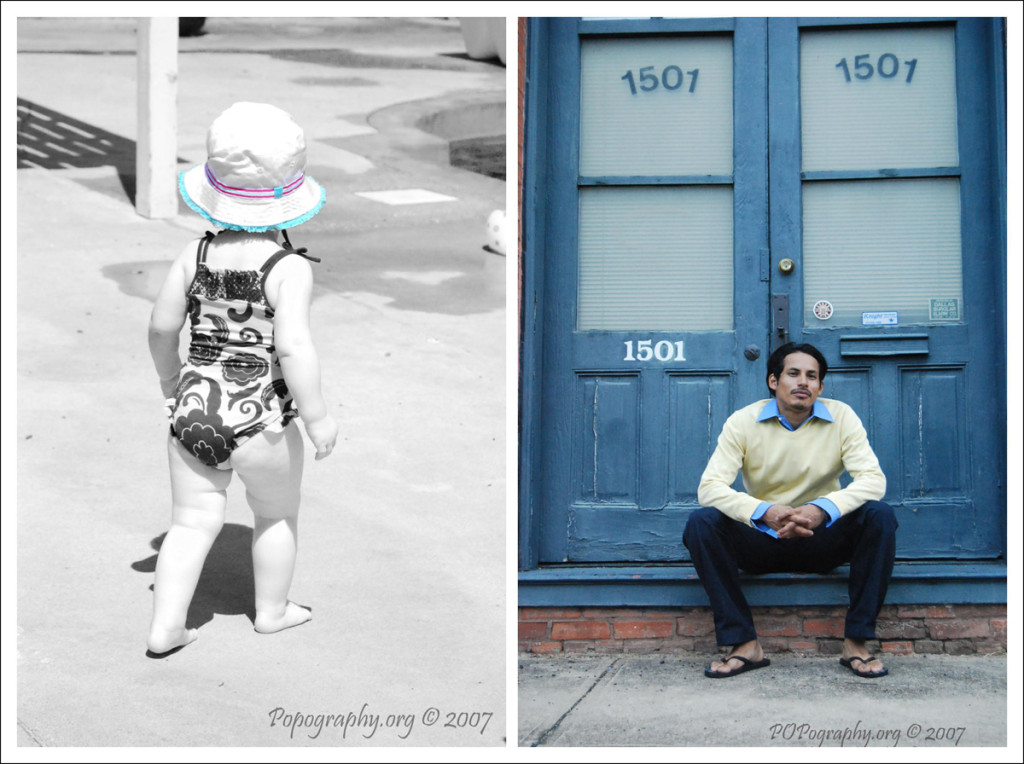 I shot for free and for fun. This went on for about 2 years. The thought of maybe starting a career from this fun hobby started to plant itself in my heart. It was still a far off dream and I was working full time as an elementary music teacher. I have always been a risk taker and overcomer. If I have a thought- I'm going with it. At least I know I tried. My friends and family started encouraging me to go with my gut. I sold my little Nikon D60 and went all in on a 5D Markii. Again, with a kit lens. I had no idea what I was doing so I heavily relied on my BFF, Bobby. He is the most intelligent person I have ever met. Hence why he is my BFF and a super rad business partner. This was the start of something good. VERY good. POPography would not be POPography without Bobby.
In 2008 I decided to start charging actual money for my work. I remember booking my first family session for $200 and it was in Waco (2hr drive). It was the most nerve racking thing I had ever done. And to think these people were going to PAY me and hang these photos on their wall!? Crazy! I invited Bobby to come along and assist me. Hand me a new lens….make small talk….bounce light….whatever he could do to help me not freak out! Little did we know that this would become our norm.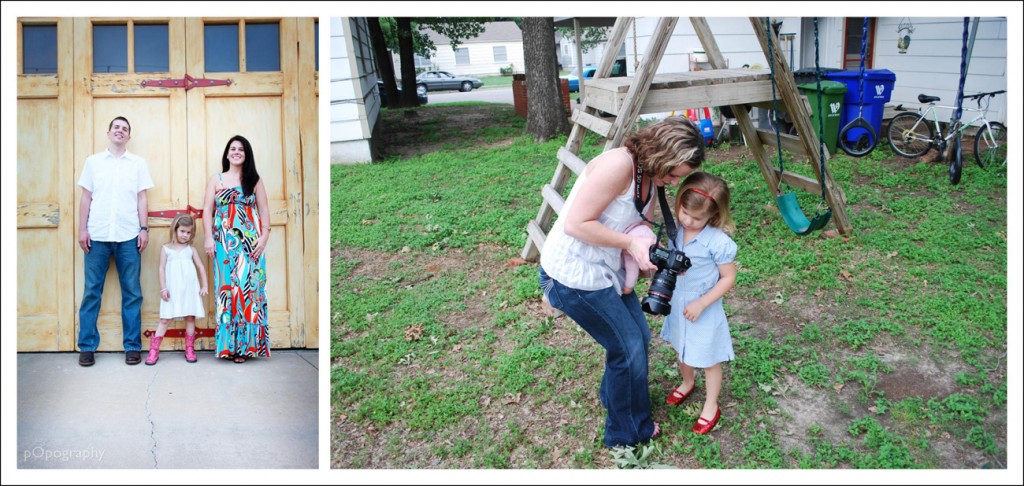 We are NEVER on a session alone. If y0u get a session–you get a Bobby too. We work like magic. The trust and security we have with 15 years of friendship allows us to work seamlessly and give our clients 110%. I soon decided to name my lil photog hobby "POPography" in honor of my nick name. Bobby (being a graphic designer) made me a logo and I fell in love with its iconic look and simplicity. But still–at this time I was just having fun and really didn't have a vision for a business.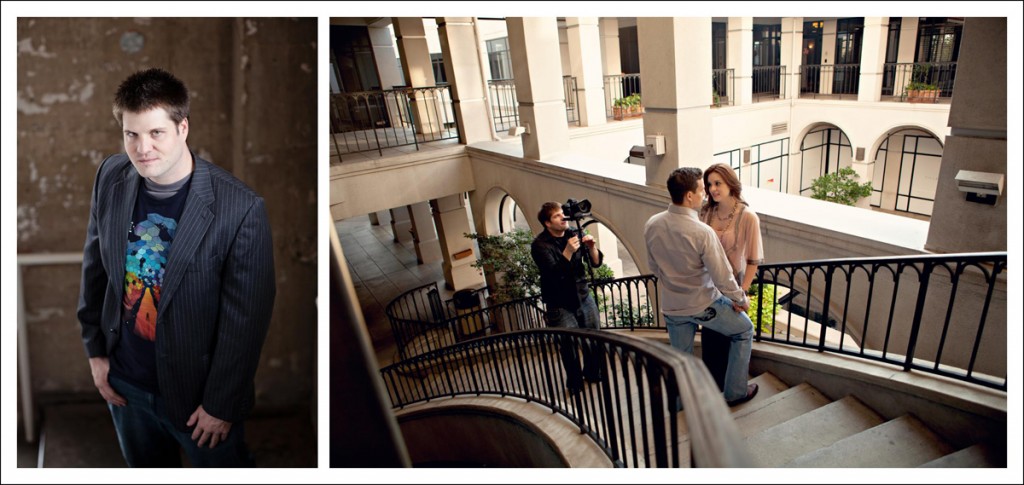 My husband and I married in 2008. I was teaching music full time. Life was good.  I had my new fancy camera, bought some studio lighting and started experimenting with new techniques. I remember buying Ali Hohn's  book on Off Camera Flash. This started to change my career. I was doing something different than other photogs around me. Slowly but surely I was defining what I loved about photography. And more and more people were booking me. And paying me! This money was helping me gain more gear and build my bag. Discovering Prime lenses, how to shoot in manual & posing—everything was coming at me so fast. Teaching was slowing but surely starting to mean something different to me. I was pulled in two career directions. This lasted for a while.
Here comes 2010….I was shooting all kinds of stuff. Some I succeeded at. I started my career with studio lighting. I loved the look. The extremes I could take with it. I started pretty much backwards. Usually people start with natural light and move towards off camera flash & strobes, but then again I have never been the norm. Here is one of my first attempts at OCF with my strobes: Maddy! My daughter.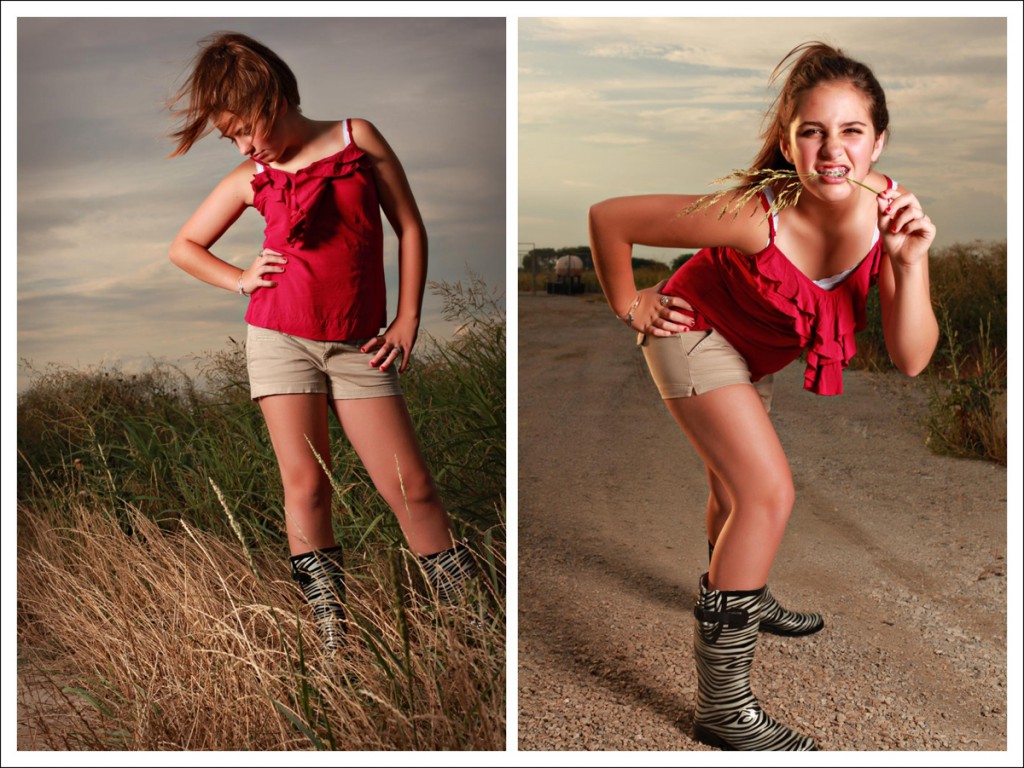 Some I failed. I invested in a custom website that I built all by myself! Showitfast changed my life and business. I built a fantastic site and started selling myself and with what little photos I had. This community was full of positivity and helped me get the nerve to put my stuff on the web. As I looked forward to planning on having another baby I knew I could not keep up teaching and photography.Dare I say I was a photographer? What gives me the right to call myself that? Is there some kind of test I have to pass before I can say that? Decision time was coming.
I did get pregnant. I resigned from my teaching career of 7 years. I called myself a photographer.
Now what?!???
A good friend of mine (Chandi) decided we should shoot some weddings together. (INSERT FOOT: I said I would never shoot weddings) I mostly said this because it seemed so big and scary and all the photogs I knew were totally against it. We shot 3 weddings together and I fell in love with LOVE. It reminded me of how much I loved my husband and how much I love marriage. OH EM GEE—–this is where I belong.
I prayed. A LOT. I knew I had to bring in some money—but how!? Would people book me with no wedding portfolio? God opened up doors that I didn't even know existed. I feel I should just be brutally honest with you all. Everyone starts somewhere. No one starts at the top.  I literally asked God to make it BLACK or WHITE..no GRAY! If this is what I was to do then make it so.
oh boy.
14 Weddings were booked in 3 months!
If that isn't an eye opener- I don't know what is. I did not freak out—I just decided to work as hard as possible and let God guide me to the right clients. Within the last 11 months (YES, that is the actual amount of time I have been shooting weddings on my own) I have booked over 32 weddings. C.R.A.Z.Y. God is Good.
I knew right away I wanted to share this with hubby. Mr. MBA himself was building my business at home and I just asked him one day— You want to shoot weddings with me? You will love it!! He was a little hesitant at first but then realized cameras were fun! We were shooting cars, the baby, trees. Everything. He  became my 2nd shooter and he's darn good at it! I love seeing him on wedding days. I get butterflies thinking back on our wedding. He is committed to not only getting great photographs, but to making sure I shine. He is the love of my life—Why wouldn't I want to share this with him? And he is pretty cute, too! 🙂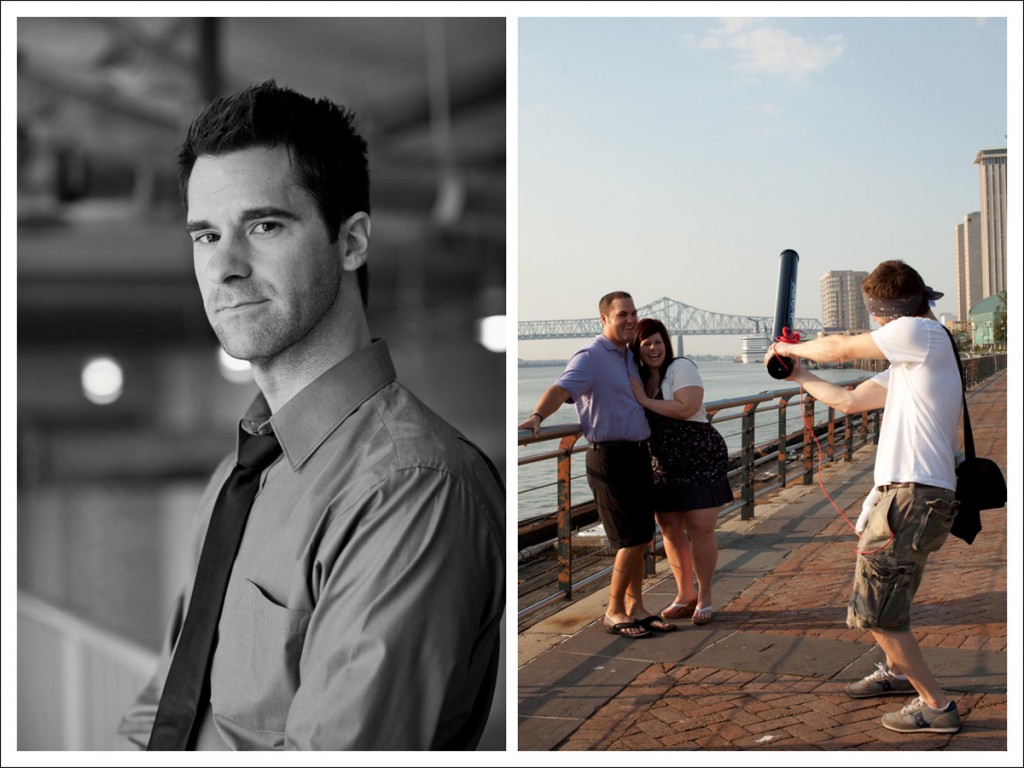 2011 was a time when I was growing the business and defining my brand. Bobby was doing video of all my sessions and coming to all the weddings too. In the meantime, Milad (aka my other BFF of 15 years) was working on set with some big wig film producers. We sat down and realized that we all wanted to be together more. How could we do this? Is that legal to work with your best friends? hehhehe We realized that we all had the skills and knowledge necessary to serve amazing couples in the wedding industry. So, we did it.
Milad is my inspiration. He is like a huge sounding board for everything I do. I run EVERYTHING pass Milad. There is nothing too big in his eyes. He's not just a dreamer—He's an achiever. He never ceases to amaze me.  Having him as the final member of the team is what set this business to the next level. Together Bobby and Milad complete my vision. It's so awesome.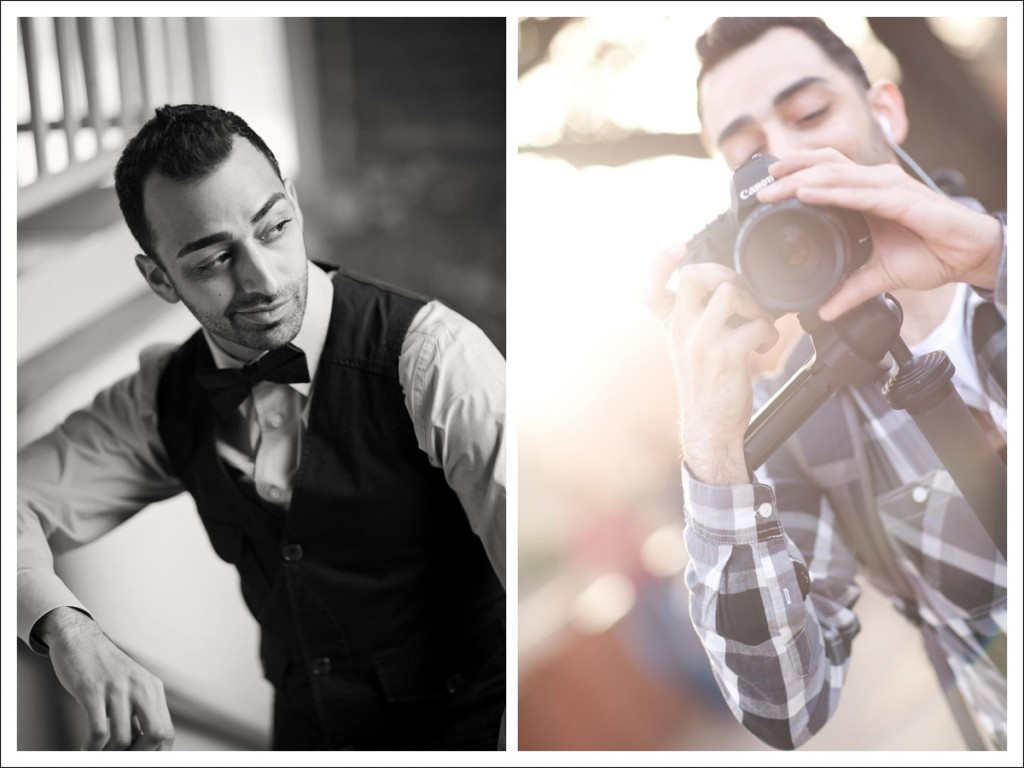 It was born. "POPography" was now a team of Best Friends.
We are the hardest working and most humble group of kids you will ever meet. We have spent almost have our lives building relationships and now it is our turn to GIVE the love we have created for all these years to our clients.
Respect. Love. Commitment.
Three words that sum up my team.
I almost feel like I'm getting away with something……then I realize…..this is the Blessed Life. I claim it and I celebrate it.
I am honored to announce my POPography team.  Professional Photography & Video Services for the Modern Day Bride. I know deep in my heart God has brought us all together for this moment, for this life, for this time.

Leave some love