March 7, 2016
There are several things you probably know about me right off the bat. I love champagne filled weekends and Kate Spade everything! Yes, I can be very predictable. 🙂 One of my other favorite hobbies is decorating. Buying our home in New Jersey was a huge investment and huge decision. My mind was reeling with ideas for our new home. Our upstairs living space is where we entertain, spend our days, cook, homework and BBQ on the deck overlooking the lake. It's where we spend most of our time. It's my favorite part of the house because it is where most of our memories are made day to day. Personalizing this space has been an on going project and list of Pinterest ideas since buying the house. The "honey do" list was long and felt never ending- at least for Jeff! I will start off by saying Jeff took my ideas and made them come to life- he gets 50% credit on all projects. 😀 Thanks honey!! Hope you enjoy and find inspiration in fixing up your own home. Cheers!
I like to call my style: Industrial Chic with a twist of Kate Spade
PROJECT: Buffet Table  // IKEA HACK
Jeff custom cut pine wood planks that would be used to encase the bookcase. We spent a few nights in the garage staining all the wood pieces that we bought from Home Depot. We also stained the wine rack and plate racks that would go inside the squares. We then used polyurethane to seal everything before putting it all together.
Jeff glued and clamped half of the unit at a time.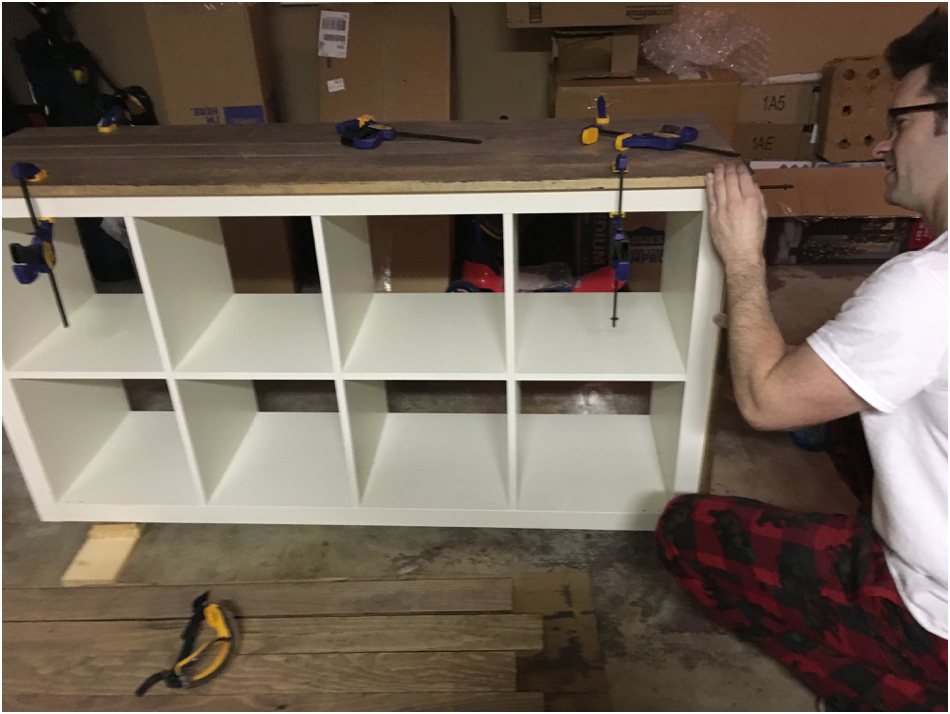 We then moved the piece upstairs where it would fit nice and snug. But there was something missing- HEIGHT!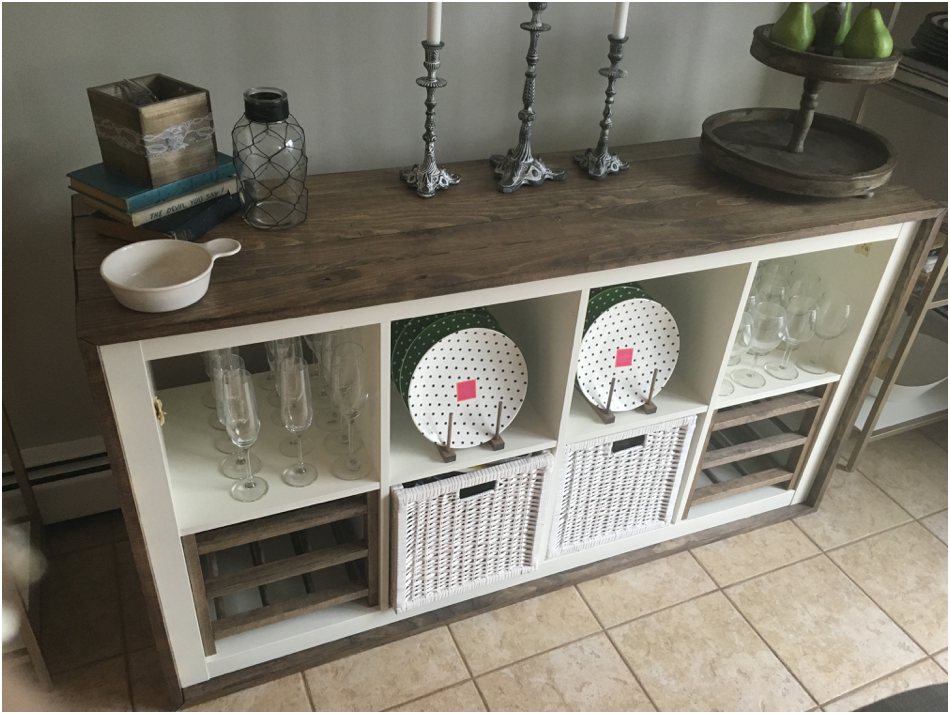 Etsy Store: Thirteen Colonies had great modern legs to fit our buffet table and give it the height we needed.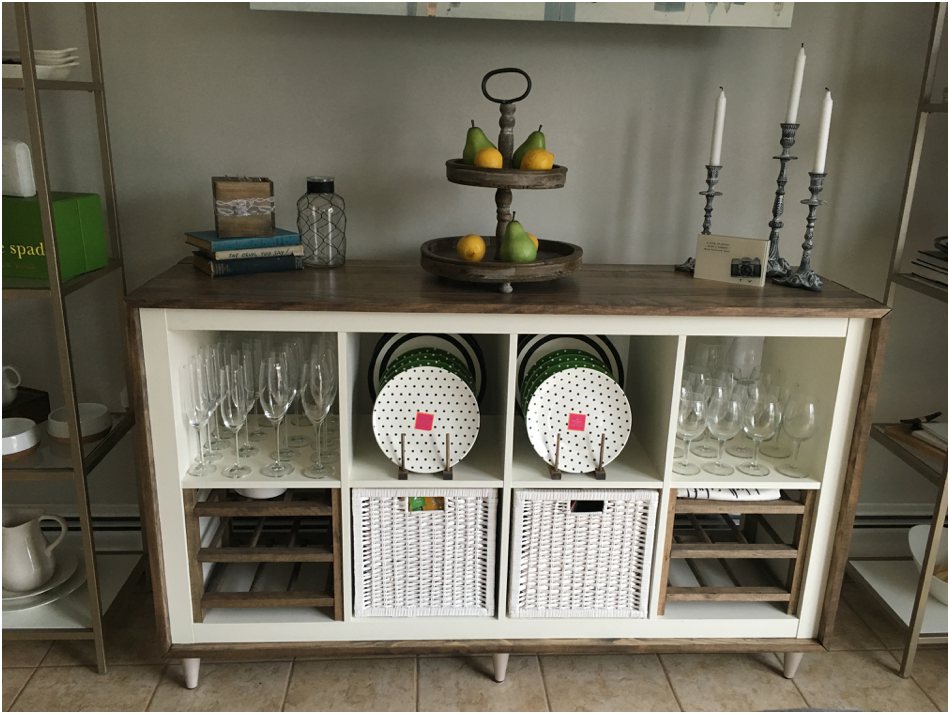 PROJECT: Champagne glass display shelves // IKEA Hack
The unit comes in white with glass shelves and white top/bottom shelves. We took all of the shelves off and sprayed 4 coats of Champagne Metallic spray paint. Let each coat dry for 20 minutes or so. It went from plain jane to super chic! These glass shelves now hold all of my beautiful dishes and Kate Spade collection!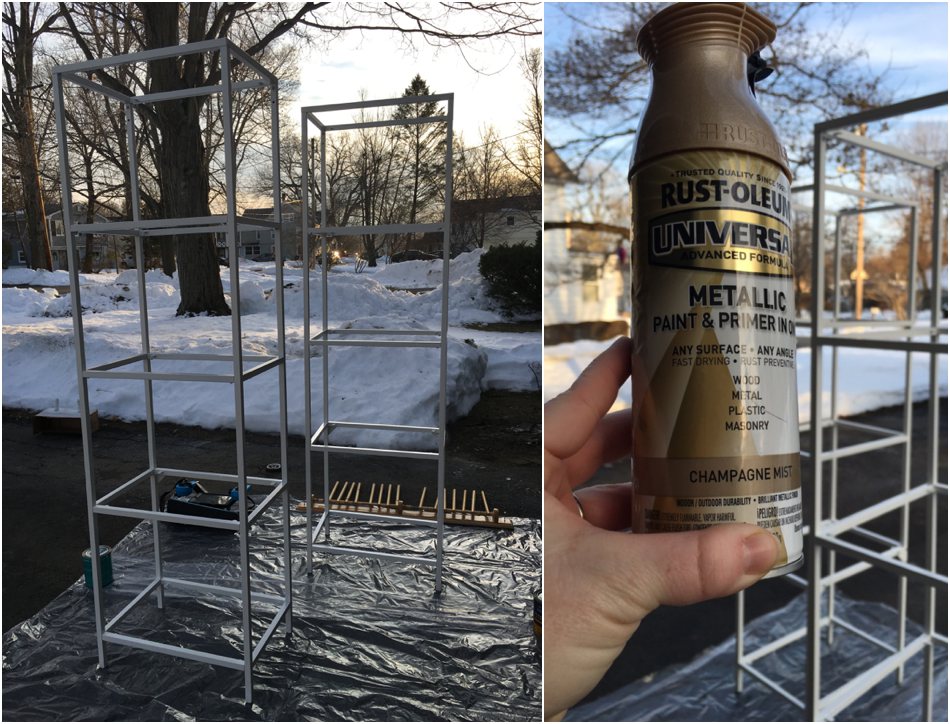 We hung one of our images from a wedding over the buffet table of NYC. I think it really fits the vibe and celebrates the city we love!
PROJECT: 1980's Thomasville TV Unit
I found this piece online in a Facebook group. It was really expensive and I wasn't sure why, but I was totally sold on how much storage I could get out of it. Jeff wasn't sure from the beginning if this was going to be too big, too long of a project- he was very doubtful. When we went to look at the piece we realized how HEAVY it was going to be and we would need to rent a U-haul to get it to our new house and a flock of strong men to get it up a flight of stairs! My vision was to chalk paint it, distress it and give it a whole new life. We used Navajo White Chalk Paint, 80 Grit Sandpaper and purchased the new handles from Home Depot. This project is still going…we are going to wallpaper the mirrors and we made shelves to go over the baskets. I am super happy with how this came together and I love all the added storage for toys and games.
1 coat of Kilz primer, 3 coats of chalk paint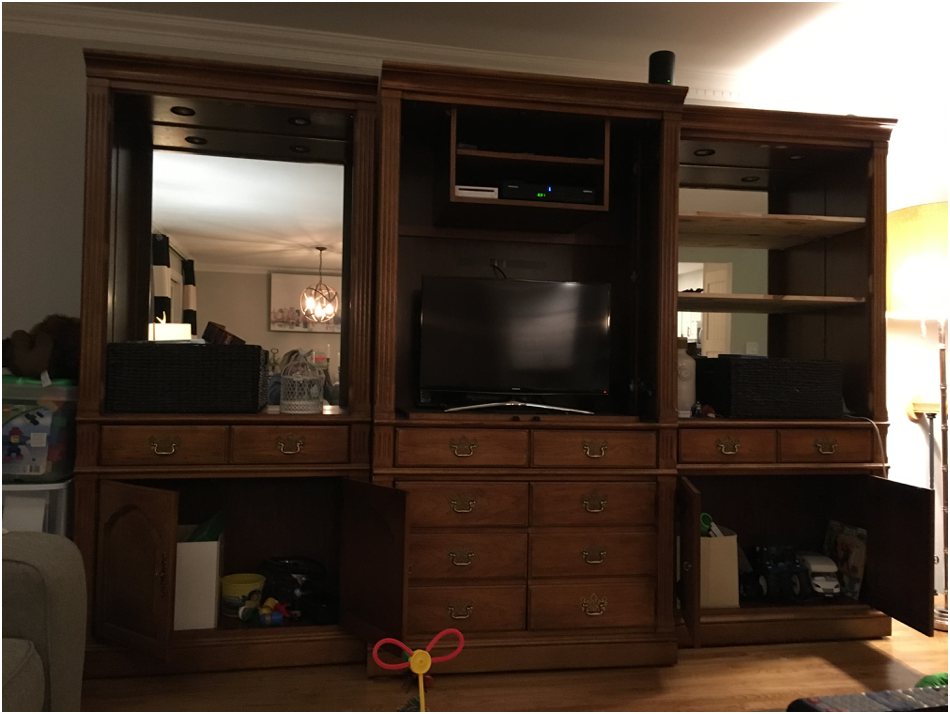 Click "LIKE" to let us know you were here!
Leave some love