June 11, 2013
I was on my way down to Texas to get ready for a month long shooting spree. I hopped off the plane and felt the heat and humidity as soon as we walked outside. There was not amount of heat or humidity going to stop me from being super excited about this wedding. It was the night before the wedding and I get a phone call from the bride, Katie. She seemed a little panicked and wanted to inform me they were expecting not only rain, but thunderstorms on her wedding day. Let me back up and say that Katie is an amazing  bride. She wanted everything to go perfect and she wanted the photos she always dreamed of. Out of nowhere, my very conservative bride asks me to do a First Look. I was completely thrilled and completely shocked that my little conservative bride was willing to break old school traditions and see her groom before the alter. We completely reworked the schedule where the day would begin earlier and the photos would all be done before the ceremony. So, if it did decide to come a flood we could rest happy in knowing we did all the dream photos she wanted before the flood.
BRIDES- listen to me. There is no such thing as 'Traditional' anymore. It is YOUR day. YOUR way. There is no such thing as bad luck. Katie came to this realization. She had a private "First Look" with her groom and then went into a 45 minute portrait session with her man. This is really the only time of day you are alone! They held hands and stared at one another. They ran through fields laughing together. They CELEBRATED their day together. The photos really show how amazing this change of tradition is.
Katie says, "I can't imagine my wedding without the first look. It was the one of the best decisions
I made in my wedding planning".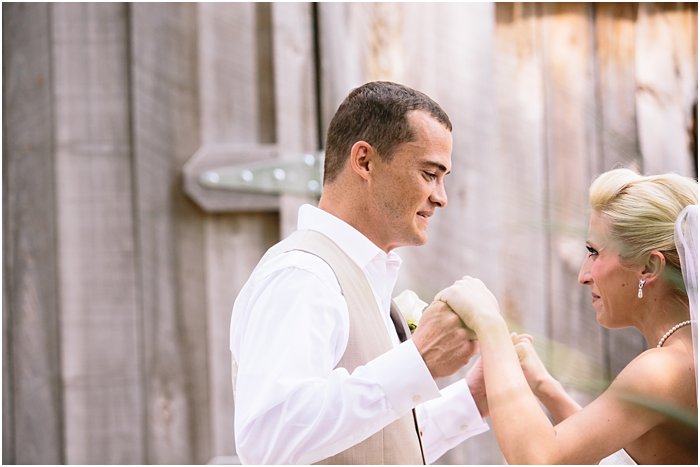 CLICK "like" TO LET US KNOW YOU WERE HERE!
  Venue: Stone Oak Ranch
Floral: A Touch of Nature
DJ: Matt E.P. with Your Special Day DJ
Cake Artist: Ganache
Hair & Makeup: Lindsey Daniel Neely
Catering: Danny's Smokehouse BBQ in Athens, Texas
Leave some love